Trail running has been on the rise in recent years. The sport's growing popularity is due partly to social media, where enthusiasts often share their experiences and the beautiful landscapes they pass through. These images have given runners a place to freely share the physical and spiritual challenges they face as they cross long stretches of mountainous terrain on nothing but a pair of running shoes.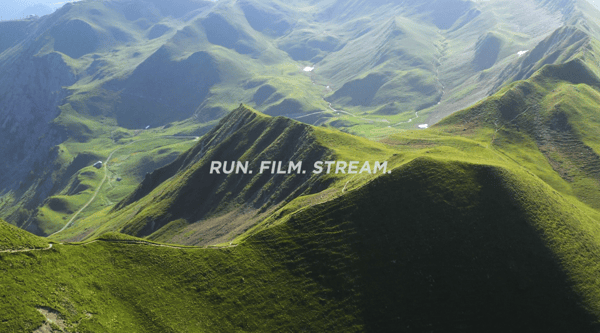 Watch how TV8 Mont-Blanc revolutionized live broadcasts with DJI products

Sharing beautiful images on the trail has been made incredibly easy with DJI Osmo Mobile, Osmo Pocket, and Osmo Action. These compact handheld cameras and stabilizers allow runners to capture the perfect moments without worrying about shaky images, regardless of the weather or terrain conditions. Greg Vollet, Head of the Trail Running Division at outdoor equipment manufacturer Salomon, explains. "The craze around the sport of trail running and the growth of our business for our trail running shoes follows the curve of image sharing on social media, which are shot in an easy qualitative way and stabilized, thanks to tools like DJI Osmo Mobile."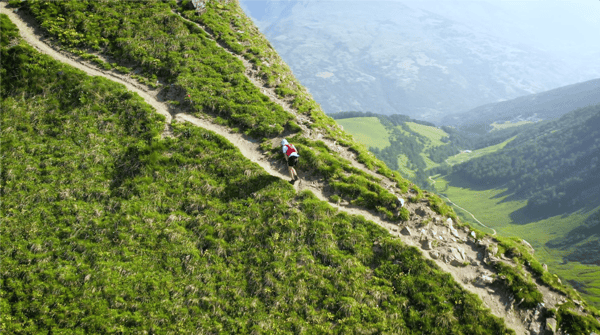 A mountain trail runner is captured by a DJI drone operated by the TV8 Mont-Blanc team.
The intense popularity of trail running has also paved the way for a growing competition landscape, where participants race each other up and down the heart of the mountain. These events can last several days, with some courses only finishable by the top athletes worldwide.
One of the most notable mountain trail races is the Ultra Trail Mont-Blanc, which covers 170 kilometers and 10,000 ft (3000 m) of elevation. The race starts from the resort of Chamonix and loops around Mont-Blanc, the highest mountain in the Alps. The competitors pass through 19 different French, Italian, and Swiss villages along the way, running night and day through mountain fog, rain, wind, and snow. At a cutoff time of 46.5 hours, the 2022 champion, Kilian Jornet of Spain, finished in just 19 hours, 49 minutes, and 30 seconds.
One of the critical factors that make the growth of the sport possible is live image transmission, capturing the race in real-time to share on home television sets, computers, and smartphones. But what makes live broadcast possible over miles of intense terrain?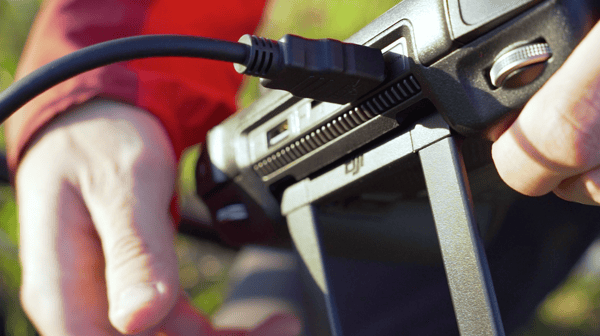 DJI drones and remote controllers can livestream its feed for real-time race footage
To find out, we followed the team at TV8 Mont-Blanc. This local TV station, based in the French Alps, regularly films, televises, and streams popular trail races to viewers across France and Switzerland. We saw firsthand how integration, quick thinking, and a good amount of athleticism allowed them to run, film, and stream the excitement of trail running from the mountain to screens anywhere in the world.
Paul Jeambrun is a camera operator and drone pilot for TV8 Mont-Blanc. For him and his team, the only way to compete with larger channels is by pushing innovation. On the mountain, this means using tools that are quick to deploy and agile to handle and create professional results. And they have proven their quality and expertise when broadcasting trail runs and Alpine ski events.
"For our channel to stand out and engage with the public, we have to be creative and choose the best solutions that meet audience expectations," shares Pierre Boucaud, TV8 Mont-Blanc CEO. "The professional television industry is fairly conservative, so we had to learn to become a constant innovation laboratory. This allows us to produce better images and lower our production costs while growing our audience and revenue."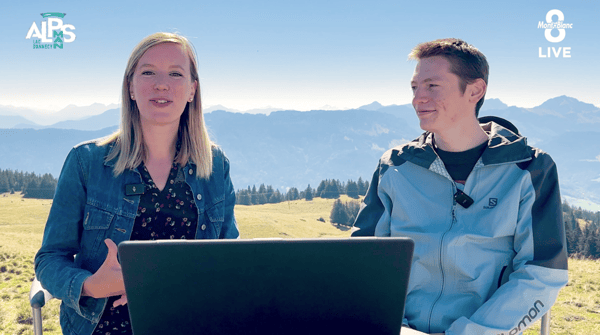 An impromptu live stage with nature as the perfect backdrop.
As Paul explains, "Filming live production is not like anything else. Everything is going very fast and there is no time to edit and no second chance for a better shot if you missed it. It's difficult and it generally requires a lot of resources."
For a live sporting event broadcast, Paul and his team install a mobile stage with a very light setup. For these, a set of DJI Mic on the host and guest works flawlessly. Paul loves that "You take them out of the box and they're already on. You just clip them onto your shirt and you can start the show."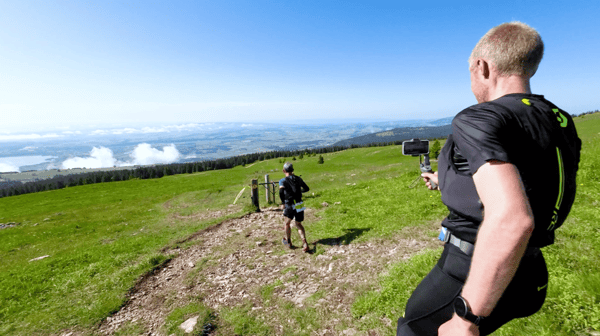 A camera operator runs with DJI Osmo for a perfectly smooth live tracking shot.
For the quick in-race footage on the trail, TV8 leans on its dedicated camera operators, all accomplished runners in their own right. With the light Osmo Mobile in hand, they can keep up with competitors for as far as 20 km, broadcasting a perfectly stable live feed from the smartphone's 5G connection.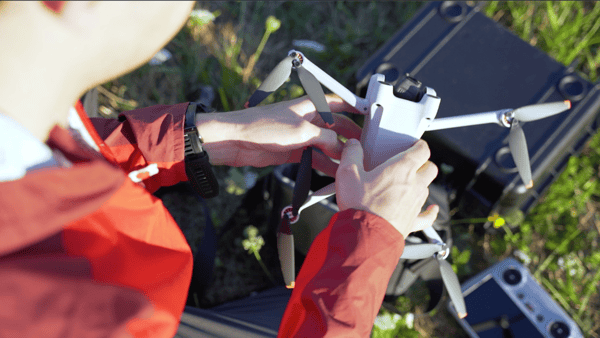 Compact 4K drones like Mini 3 Pro, DJI FPV, and Mavic are perfect for grab-and-go streaming.
With the boots on the ground in lockstep with the race, Paul takes off to stream aerial footage with a suite of drones, starting with DJI FPV, creating dynamic footage along the mountain's ridge while flying at full speed. For more sweeping shots, he uses the Mavic drones, which allow him to stream with the DJI Smart Controller.
"The immediate benefit in using the DJI Smart Controller is its large, very bright screen," says Paul. "Its HDMI output can be connected to a multi-SIM box, which allows us to send the cleanest video stream possible," which is critical in mountain environments with lower broadband and 5G coverage.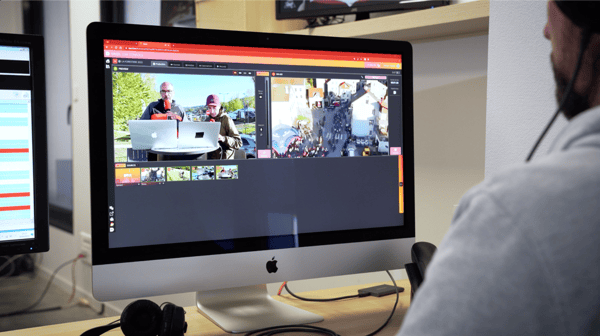 The director chooses from the different transmission streams for the live broadcast.
All footage transmits to the TV8 studio, allowing the director to choose which shots to broadcast at which time. Like an orchestra conductor, the director defines the rhythm of the shot and relays cues for the musicians (in this case, the camera and drone operators) to set the following pieces of the score. Just a few seconds later, the image arrives on the TV of the viewers, and even the live stream of their Facebook page for anyone to view on their computer or smartphone.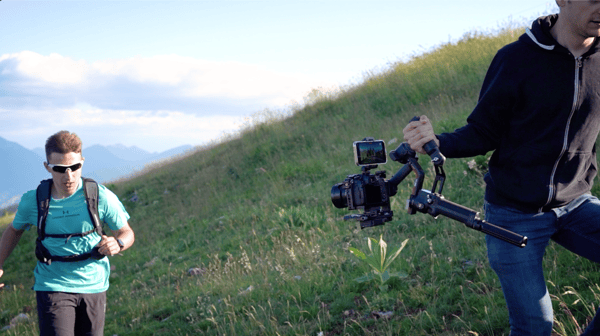 DJI RS 3 is an excellent tool for producing cinematic documentaries.
Some shots call for two or more cameras to shoot for the immediate livestream on one and footage for an edited feature on the other. For the feature shots, the TV8 team brings out DJI RS 3. With its lightweight agility and support for cinema cameras and larger lenses, RS 3 provides the perfect pro-level stabilization when working light and fast is vital.
By all measures, TV8 Mont Blanc has succeeded in its digital transformation. If you were to ask Pierre, he would point to a few reasons. With an innovative team with a heart for experimentation, the studio found tools in DJI products and put them to work in the field like a Swiss Army knife. As a result, they are capturing and sharing dynamic action for athletes and fans to enjoy in real-time, from anywhere.