With the full scope of COVID-19 still being debated by health experts across the globe, nearly one-fourth of the reported cases are from the United States. The pandemic has not only pushed public healthcare systems to their limit but it has also compelled authorities to incorporate 'contactless' technology into their coronavirus response.
Over the past few months, we have witnessed officials in China and public safety entities across Europe leverage drones as strategic assets to assist those who operate at the frontlines.
Drones are vastly beneficial in enhancing situational awareness through live video feeds.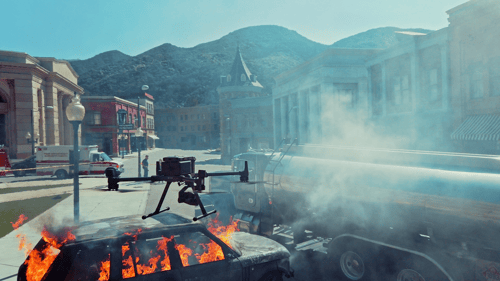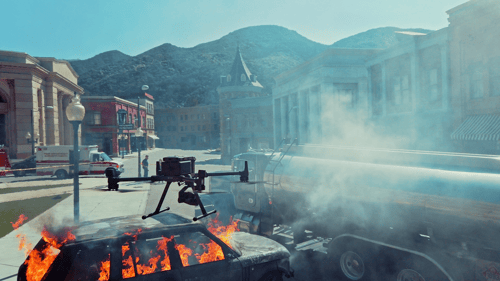 Drones are vastly beneficial in enhancing situational awareness through live video feeds. They can also be used to disseminate critical information during flight via accessories, like a loudspeaker. Moreover, public safety officials can conduct post-flight data analytics for a deeper understanding of socioeconomic dynamics such as crowd behavior and traffic movement.
It has been just over a week since we activated our Disaster Relief Program across the United States. In this period, several hundred departments across the US had reached out to us, and we have been able to support 43 police, fire, and public safety organizations from 22 states, helping them with the right equipment in these unprecedented times. As part of our commitment to America's frontline heroes, we have been distributing 100 drones to police, fire, and emergency management departments; state patrols; search and rescue units; and even hospitals.
These organizations can utilize drones in numerous ways to manage the crisis and I'll be sharing some of the potential use-cases here. But as public safety personnel exploit their ingenuity to develop use-cases not foreseen at present, expect to see more information and examples being added to this blog over time.
Six ways drones can manage and mitigate the spread of COVID-19 in the US
1. Live Situational Awareness with AI Analytics
As of April 2, almost 90% of the United States is under a government-mandated shelter-in-place order in an attempt to prevent the spread of COVID-19 and flatten the curve. The current policing methods of enforcing these orders require a large number of resources, which makes them costly and, often, not as effective as one would like them to be.
As such, remote oversight of people is highly desirable to reduce manpower needs and maximize efficiency. Most DJI drones can be used to keep an eye on the crowd movement and evaluate developing situations quickly and remotely.
We have also made several streaming solutions available within our ecosystem to ensure that drone footage can be streamed live to an incident command center seamlessly. These solutions include a DJI Smart Controller, Crystal Sky, and/or iOS devices which can either connect to a Wi-Fi network or utilize LTE/4G/3G connectivity. In case of location or connectivity constraints, solutions like Dejero and FLYMOTION Mission Case can be used to increase streaming capabilities.
These live feeds can be used as is, or authorities can apply a layer of real-time artificial intelligence (AI) on them to make better decisions. For example, using AI on a live drone stream can be used to automatically identify crowd density and trigger custom alerts. An AI analytics platform such as Unleash Live can even empower a remote command center with multiple live streams from drones, CCTV, mobile cameras, or BodyCams for coordinated decision-making.
2. Community Patrol for Public Safety
In exceptional times like these, when police departments may be facing staffing shortages from infected/quarantined officers, or more units need to be deployed in special zones, a drone can act as a force multiplier for regular patrol duties and safeguard communities against crime.
Low-cost roving platforms, such as DJI's Mavic 2 Enterprise Zoom and Dual, Phantom 4 Pro, or Matrice 210 v2, can be utilized in crime-vulnerable areas to observe and report suspicious and criminal activities, reduce manpower requirement, minimize public contact, and maximize efficiency. These easy-to-deploy drones can be operated by a single officer to patrol a sensitive area, just like a normal police vehicle would have.
Drones can also prove pivotal while responding to community-reported incidents. For example, a quick incident size-up by a drone can allow for quicker deployment decisions such as increasing the response (i.e. soliciting additional units) or canceling the request for additional alarms due to a lack of severity of initial call information.
And let's not forget that declared emergencies can lead to community anxiety. The presence of visibly-armed patrolling officers in such situations could heighten the stress levels for residents, potentially deterring them from stepping out to fulfill even the basic necessities. Drones, meanwhile, can continue to safeguard communities without adding to the citizens' anxieties.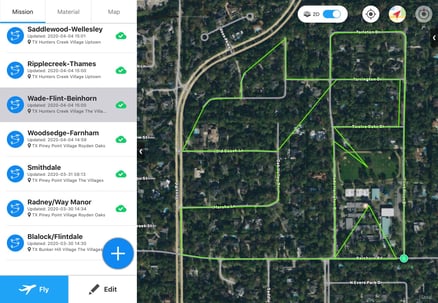 A department can plan and save multiple patrols on an iPad before taking off. The flight is automated so the officers can focus on reviewing the video stream and take command if a special situation occurs.
3. Information from the Air
As seen already in countries like Italy, Spain, France, Belgium, and China, a Mavic 2 Enterprise (with included speaker accessory) can be used to share audible information, such as notifications, messages, updates, and requests with the citizens. Especially effective for patrolling public spaces such as parks and beaches, this method eases the burden on the police force and allows a more remote approach to enforcing social distancing.
4. Homeless Camp Evaluations
With more than half a million people experiencing homelessness as the coronavirus pandemic sweeps the country, the movement of this extremely vulnerable population group has become a serious concern for the government authorities. That many of the homeless also suffer from poor health and malnutrition puts them at a dramatically increased risk of having severe complications from the coronavirus. This is why officials in the San Francisco Bay Area – which has the densest homeless population in the US – are securing rooms in hotels to get people safely housed.
But not everyone can be moved to a hotel. Many homeless people live in a shelter system. These shelters need to be reinforced urgently with infrastructure such as additional handwashing stations. Besides, there is the problem of density – because one person may be splitting housing with numerous others. Thus, identifying and tracking the encampments of the homeless properly has become imperative.
Drones such as Mavic 2 Enterprise Dual, Matrice M200 series, and Phantom 4 Pro, can prove useful here in several ways. Drones can be used to create precise, high-resolution maps of the areas with homeless camps. Additionally, thermal data can be captured to determine population density. High-resolution videos of these areas can also be captured, with the AI analytics solutions mentioned before being leveraged for crowd-counting.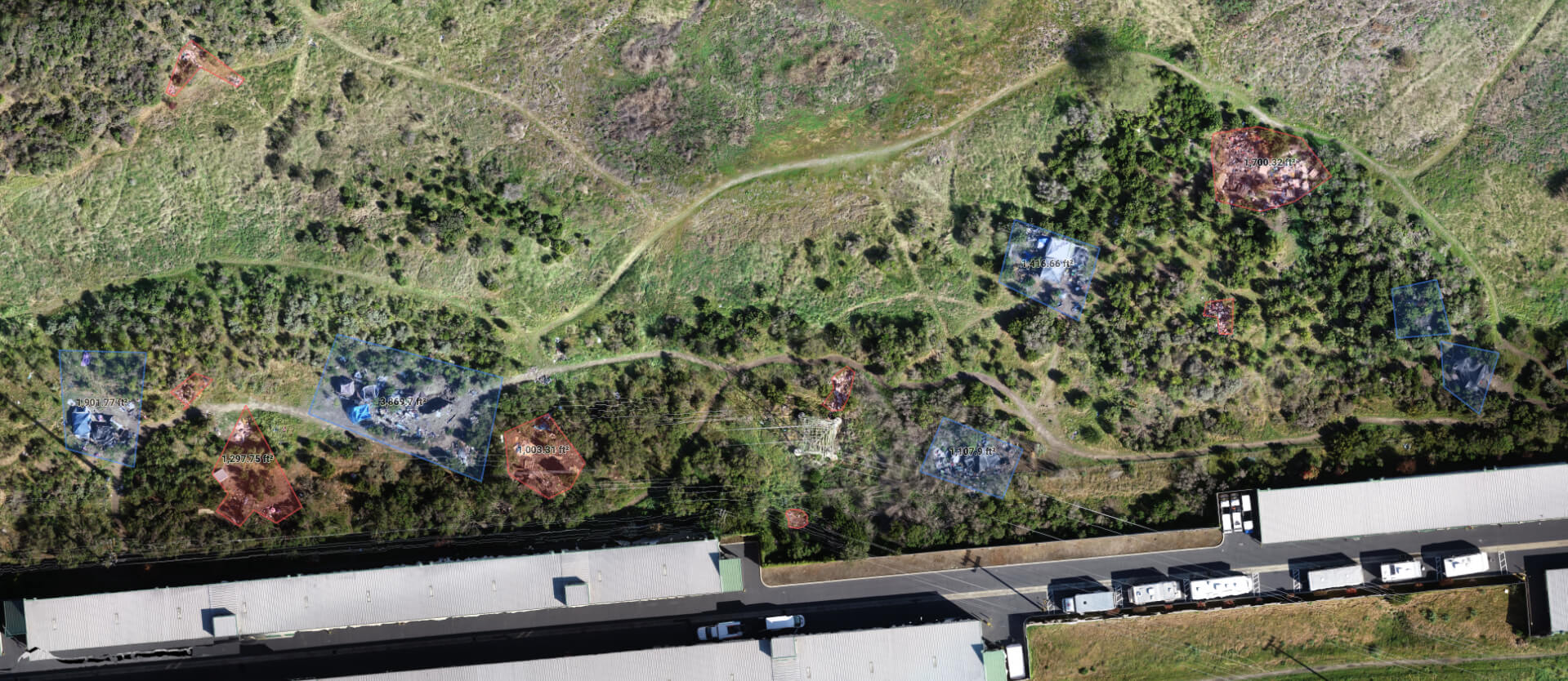 Officials can map and measure the size of camps to determine their risk profile and appropriately plan relocation or other actions that would reduce the risk to this vulnerable group.
5. Planning and Overwatch of Drive-Through Test Sites
To ensure proper setup of testing and treatment sites, as well as the staging areas for disaster supply Points of Distribution (PODs), proper mapping of the area is a basic requirement. Using a 2D or 3D mapping drone such as Phantom 4 Pro, Mavic 2 Pro, or M210, officials can allow for proper measurements of distances, volume measurements, and the design of traffic flows.
Mapping can be first utilized to determine appropriate locations – depending on the size and ability of a potential site to handle logistics, possible loading and unloading zones, personnel work areas, public traffic lanes, standby zones for the public, as well as the availability of the existing structures that can assist with operations.
Next, the security needs of these sites can be rapidly evaluated to determine the best ways to secure the sites with as few resources as possible. Real-time evaluation of the implementation of these proposals can also be done through drones. At an operational site, the traffic flow can be further evaluated and advisories issued to make adjustments as needed.
Using drones for planning and overwatch of drive-through coronavirus test sites can lead to maximization of testing site/POD efficiency, reduce the need for personnel, and minimize the wait times which could have led to public frustration and anxiety.
6. Delivery by Drones
Using drones to deliver medical supplies and personal protective equipment (PPE), or to carry medical samples from the collection center to the testing facility, can not only reduce the transportation time exponentially but it can also decrease the chance of secondary pollution from human contact.
A 'no-contact delivery' of medical test kits, medicine, food, and water to homes across America via an autonomous drone delivery network could also be a potential use-case with the Matrice 600 Pro boasting an approximate lift capacity of 5.5kg (12 lbs) and the Matrice 200 Series having an approximate lift capacity of 1.4kg (3 lbs).
In recent years, several sites have already begun testing drones for medicine supplies delivery. We have provided a writeup of these sites here.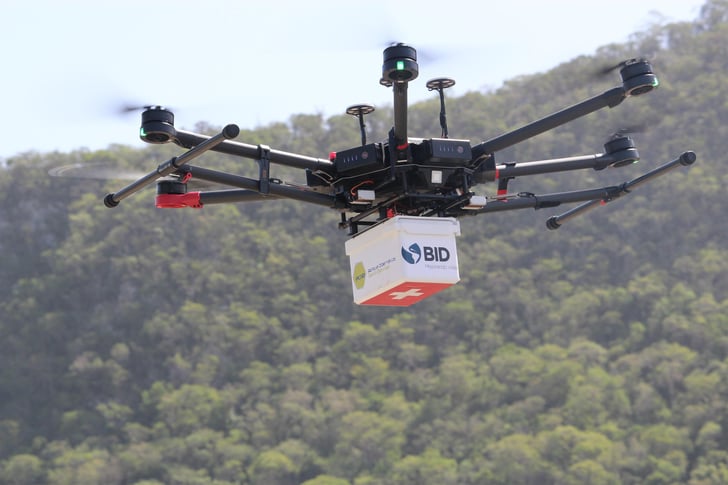 Other Applications
Apart from these use-cases, some countries have also been known to use drones to gather body temperature readings or even to spray disinfecting chemicals in public spaces for epidemic prevention. We are still waiting for more information on the effectiveness of these applications, so advise that any departments seeking to deploy these applications do proper research before proceeding.
We have provided a writeup of some of these key applications and others that have been commonly deployed in China's efforts to combat COVID-19 here.
Do I need to decontaminate my drone?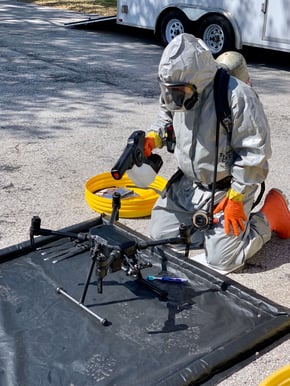 Decontamination of sensitive equipment such as drones allows first responders to utilize these tools in potentially dangerous environments without the concern of chemical or biological contamination. Therefore, to ensure the safety of the personnel handling them, it is recommended that the drones being used in a biological hazmat event be properly decontaminated before use.
Also, since drones are loaded with delicate sensors and high-end equipment, a careful approach is required to disinfect them. Traditional decontamination methods may damage critical components of the aircraft permanently.
A Drone Decon Kit has been developed by DJI's Public Safety Channel Partner FLYMOTION in partnership with First Line Technology and Southern Manatee Fire Rescue. This kit includes everything you may need to safely decontaminate a drone.
It should be noted that a contaminated aircraft or batteries cannot be launched, landed, or charged in the clean or 'cold' zone, which could be difficult for some pilots. All operations will now need to take place in the 'warm' zone alongside the decontamination process. Once decontamination is complete, the aircraft may need up to 48 hours to dry, depending on the environmental conditions.