This year stands as the worst year for wildfires on record in California and across much of the western United States. Five of the six largest fires in California history happened this year, and experts estimate more than 8.5 million acres have burned so far due to decades of forest mismanagement and a lack of prescribed burns.
Battling these blazes has become an intense concern for communities across the West. Yet even as firefighters look for new ways to contain outbreaks, a well-proven technology is still waiting for wide adoption – drones.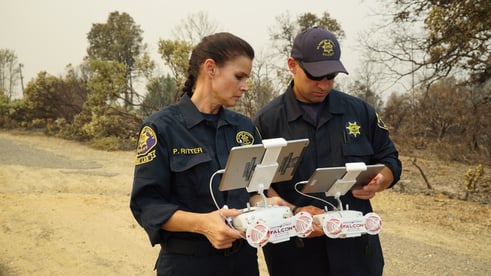 Drones have become an invaluable force-multiplying tool for firefighters across all phases of their work – from preventative measures, to incident management and rescue operations, to post-event surveying. Some are equipped with multispectral cameras to analyze vegetation, or LiDAR technology to generate precise 3D fuel maps that show where fires are most likely to spread. Other drones can be used to drop small flammable balls to spark controlled burns in areas that are difficult to traverse. At a working fire, drones can use thermal imaging cameras to peer through smoke to follow fire movements and save lives. And when the fire is out, drones can create high-resolution orthomosaic maps of devastated areas to document the damage, speed insurance claims and jumpstart recovery planning.
California's most dangerous weather often comes in the fall, after an arid summer during which the landscape turns to tinder. This year, remnants of a tropical system brought storms of lightning with no rain, which helped touch off more than 700 fires across the state. All of this makes controlled burns, which reduce the amount of "fuel" available for potential future wildfires, even more important to accomplish before the next fire season starts.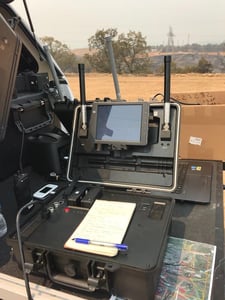 "We're seeing an uptick in megafires out West," said Romeo Durscher, Senior Director of Public Safety Integration at DJI, the world's largest drone manufacturer. "These massive fires, which used to be a rare occurrence, are happening more often than ever – destroying more property and spewing smoke clouds that impact the health of millions of people. To get ahead we must get creative. When we first deployed a few public safety drone teams to the Tubbs Fire in 2017, we had never seen such widespread fire destruction. Barely a year later we had deployed to two more enormous fires, including the Camp Fire, where almost 20,000 structures burned to the ground. Every time we said it can't get worse … but it did."
Lack of familiarity is a challenge in making drone-driven controlled burns a regular occurrence – but those who have used drones say they want one for every fire. Laura Barrett, a fire specialist at the U.S. Forest Service who assisted in late August at the Woodward Fire in Marin County, said, "The brush here hadn't burned in nearly 100 years. The drone is not only safer but cheaper and does work efficiently. At first, we were hesitant, but now we want a lot more."
While change happens slowly, it happens inevitably, as seen with the embrace of other firefighting tools over time such as 747 Supertankers, which were once new. Drones currently aren't available on California's Firescope, a log of assets available for fire chiefs to order ahead of blazes such as helicopters, 747 Supertankers, and extra crew.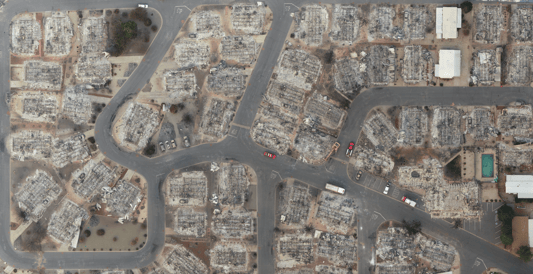 "We've already seen how successful drones can be, so continuing to increase drone certifications is a must," said Durscher. "For example, during the Camp Fire, a team of drones began recording images of the devastation below in efforts to help the people who lost their homes. By the time they were done, they had collected 70,000 images over 17,000 acres resulting in 1.4 trillion pixels of data. That data is still in use and helping people rebuild today, two years later."
As fires increase in size and complexity so too will our technological capabilities. As familiarity increases, we'll soon see a future in which these aerial tools become the go-to in the fight against wildfires – saving homes from destruction, aiding firefighters, and saving lives.