Jonathon Glyn Brearley is a Masters of Architecture and Master of Building Technology candidate at MIT. Jonathon's work and research is broadly concerned with quantitative methods of design towards programmatic and qualitative outcomes. Specific areas of research are in the intersection of structural optimization, daylighting design, and outdoor thermal comfort. His work is also concerned with architecture's associated urban implications, from transportation, to housing, to education.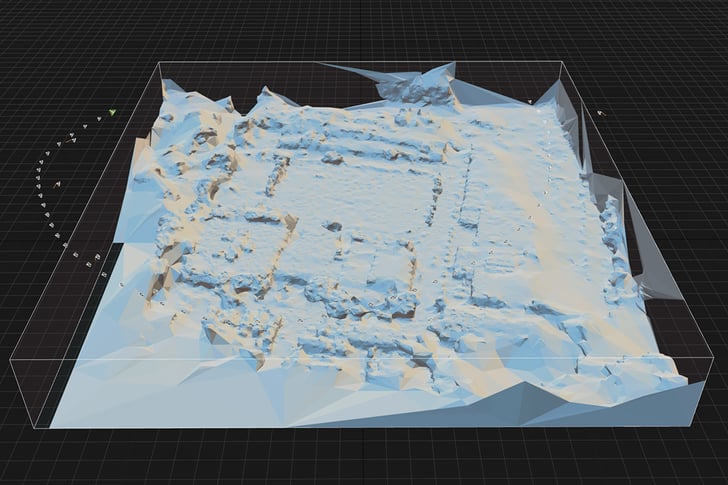 Hi Jonathon, thanks for taking the time. Can you give a brief introduction about what you do?
Currently, I am pursuing my Master of Architecture and Master of Building Technology at MIT. Along with my coursework, I work in the Urban Risk Lab on various research projects and as a designer with a recent MIT DesignX start-up called Roofscapes.
How did you think of incorporating drones into your field?
I think of incorporating drones into architectural practice and research in so many different ways, from the outside to inside, from above to around. Up until recently, the use of drones in the architecture field was limited to what I would call "real-time" and representational uses. Site surveys via video and photography are extremely valuable to architects and designers. Drones also allow for architects to very quickly and easily get a global picture of building progress on a site visit. The integration of drones into the workflow and communication between architects and builders, contractors, and clients will only become more ubiquitous. In fact most engineering first have a drone department for this exact reason. On the flip side, drone photography and videography are extremely valuable to architects to be able to share their finished work and to be able to win more work in the future. While perhaps architects themselves are not the ones taking these photos and videos, both exterior and interior drone shots allow for extremely creative and convincing marketing material from previously inaccessible viewpoints.
With more recent advancements in machine learning and artificial intelligence, architectural spatial research has been able to take advantage of the massive amounts of data that a drone can capture, as well as the range of sensing ability that we can leverage to inform design decisions. Two projects come to mind out of MIT, though there are surely more. The first is Norhan Bayomi's doctoral research in which she is using drones to investigate the impacts of building construction on heat resilience with thermal imaging. Norhan is also a participant in Airworks, a product that uses drone data to autonomously draft large areas of the built environment. Similarly, an MIT startup Vertical Analytics uses drone imaging to help engineering firms with building inspections and identify structural issues. It's these kind of research and commercial applications that leverage smart analysis of large amounts of data that offer very promising opportunities for incorporating drones into the architectural field.
What products have you been using?
Personally, I use a DJI Mavic Air 2 and have experimented with the DJI FPV System.
How has the introduction of drones changed/helped the architecture industry and research?
I think the introduction of drones into architectural practice has helped big and small firms alike. For smaller firms, the accessibility of creating your own highly detailed site surveys as well as surveying building progress is genuinely an amazing capability to have in house. Large firms and small firms both benefit from easy aerial photography for marketing purposes as well as the ability to create very accurate site surveys with nothing but consumer products. In terms of architectural research, drones have opened doors to completely new types of research methods and research questions. In a very serious way, drones add a 4th dimension of information, thermal imaging, for example, to research in the built environment.
What are some applications of drones you've used out in the field? Do you have any interesting/cool stories you can share?
The two main applications I use drones for in architecture are for site surveys and for design project representations. For site surveys, aerial images and video footage are extremely valuable while mapping and understanding the context to a level of detail that other map products do not provide. I also use either photogrammetry in Metashape or Reality Capture to generate detailed 3D mesh models of a site's context from drone photos and footage. These models are extremely valuable because they can be imported into 3D modeling CAD environments like Rhinoceros 3D and very seamlessly integrated into an existing design workflow. These 3D models also generate quite accurate topographic data which is essential in the design process. Most recently, during a Fall 2020 design studio led by Dr. John Oschendorf, Dr. Sara Carr, and Michael Murphey called "Pandemic Resilient Schools", I used drone photogrammetry to survey six Cambridge elementary schools to help identify sites of design intervention that would render each school a more healthy and pandemic resilient environment.
If you could imagine new drone capability or technology that could really help the industry, what would that be?
I will have two answers, both are not particularly creative but would potentially be very useful for architects. The first is for fairly niche sensing abilities like LiDAR and thermal imaging to be available to a layperson consumer and available in consumer drones -- perhaps this looks like interchangeable camera systems that are found in higher end drone systems. The second is related, but more in the realm of software; at the moment, there is something of a 3D revolution where more people than ever have access to 3D printers and are interested in 3D technology. Useful for architects, but a feature in and of itself, I would love to see a native DJI application and flight features that are built around photogrammetry and 3D modeling. At the moment, photogrammetry workflows use two or three third party applications and, while not overly burdensome, require a fair amount of computational power and time. A native end to end solution that starts with a smart flight mode and ends with a textured .obj file would be a dream.