The coronavirus pandemic has impacted the whole world, and we are all practicing social distancing. We want to use ViewPoints as a place of support. We are calling on the global community to stay home and stay creative with DJI. While we are facing a difficult time, we can turn it into an opportunity. Do something. Learn a new skill. Overcome a challenge. Whatever you choose to do, capture it and share it with the world, and connect with others making moments in the safety of their homes.
Cache bunny is an LA-based video director and visual effects artist. Before she was shooting and directing her own material, cache used her distinct style of video editing to turn classic movies into unique, fast-paced music videos. This gained her international attention when Skrillex used her content as visuals on his debut world tour in 2012. For the next few years, she continued honing her craft as an editor at MTV and several other companies before breaking off in 2018 to create original content as a freelancer. Today, she uses a wide range of shooting techniques and digital effects to create playful, dreamlike vignettes. Some of her recent projects have been with Will Smith, Red Bull, Coachella, Michael Kors, and the American Music Awards.
Cache bunny used her Mavic 2 Pro to shoot two videos for DJI. Below is a brief introduction to how she got into Visual Effects (VFX), where she draws her inspiration from, and how being in quarantine has or has not affected her work.

Q:

When, how, and why did you get started in VFX?
A: I was a traditional video editor for 10 years. I knew some masking in Premiere but was limited due to the nature of the program. But even during that time, I was finding ways to try to make experimental, trippy edits. I came across Ari Fararooy's work a few years ago and was blown away with the content he was creating. I reached out to him and we teamed up together for a few projects. About five projects in, he saw my potential and offered to teach me how to use After Effects.
I've tried to learn After Effects on my own but would get discouraged and intimidated. It was so different from the editing program I was used to and I often felt lost. As a mentor for two years, Ari helped me overcome that hurdle. He introduced me to clients and other VFX people, and I credit him for jump-starting my career.
Q:

It sounds like mentorship and learning from others plays a significant role in your craft.
A: Absolutely. We are an open community, and we've gotten even more tight-knit during the lockdown. I'm in group chats with other creators, and we share cool posts from known and lesser-known creators. We share our works in progress for honest feedback, discuss the creative process, and even offer personal support. The other day, someone was asking for legal advice. There's a huge range of what we do for each other, and we can talk about anything. We actually just put together a collaboration video between 13 of us. That was all made possible because of the creator community – it's so supportive. I have nothing but great things to say about the VFX community. It's been so good.
Q:

On top of VFX, how did you think to incorporate drones into your work?
A: Drone footage has always sold itself. It is so eye-catching and offers such a different perspective, which is what VFX is all about. As soon as drone footage became more popular and accessible, I knew it was something I'd love to try and incorporate into my work. With a lot of the drone edits that I do, I'll play around with footage I find online taken at specific angles and see how they look to get inspiration on how I want to shoot.
Q: Can you talk us through the recent videos you made for the DJI Instagram account?
A: For the hula hoop video, I've always really been inspired by overhead, birds-eye-view shots, and I am a hula hooper myself. Putting both together, I was able to shoot a cool angle that you don't see very often. After reviewing the footage, I saw the opportunities where I could add visual effects. I noticed that if I kept the hula hoop parallel to the ground, I could create a circle to manipulate.
The video of me laying in the grass came inspired by a song about…laying in the grass. Listening to it sparked this intense visual that started with me kneeling there. So I tried a lot of different treatments and wanted to incorporate creating a different world. I combined lying with myself and exploring this alternate reality. From there, I tried numerous explorations and settled on a tower of moments captured on the drone and different moments of my travels and my life.
Q:

A common element in your videos is that seamless looping. As a feature on Instagram, does the social media format inspire how you create videos?
A: The looping feature is such a huge thing to consider and an aspect of my work. I remember before video looping was a thing, my videos probably wouldn't have made an impression. I don't know what other platforms it would live on. It's a fun challenge where an effects artist needs to create a way to tell a story that can keep going. When it's finished, the loop becomes a satisfying cherry on top of the video that people appreciate.
Q:

If there is one thing you could share about these videos you made for DJI, what would you want the world to know?
A: There were many failed edits, trials and errors, and multiple iterations before I decided on a version I liked. With the hula hoop video, I initially had two different edits: one in the grass that was more placed in reality, and another with a black background. When I asked for feedback, everyone was split on what they liked. So I had to decide if I wanted a video based on reality with a visual effect or a video that was visually and graphically cool but not necessarily set in reality. I was stuck on that decision for a long time.
Ultimately, I needed to find a way to make those two work together because I loved both of them. I found a way to have an intro, give it a space within the real world, and show the backyard before getting into the effects then ended the video going into an abstract world. It was exhausting to get everything to fit creatively and technically. Ultimately, I'm really happy with the method I chose because I wouldn't have been satisfied with just one or the other.
Q:

Between making videos on your own and getting feedback from an online community, what's it like to be a content creator in a health crisis that requires social distancing?
A: I had to be even more creative with my shots. I don't want to be only getting timelapse videos after all. Having a drone allows me to explore different angles and shoot the same subject in different ways while keeping a safe distance. Shooting the same subject in different styles can be even more inspiring than shooting a million different subjects in the same way. It's an interesting challenge to get your creative juices flowing.
Since the lockdown, one of the things I miss the most is working with and around other people. As a solution to that, I started a Zoom call called "Edit Party." It was meant to be a digital coffee shop where people can come to work and edit together. They could come in, stay muted with their cameras on and get some work done. But it turned into something different – something better. We formed a strong community of people who kept each other motivated and a place where we could answer questions, share screens, and show our projects. Many people come in to ask questions and seek mentorship.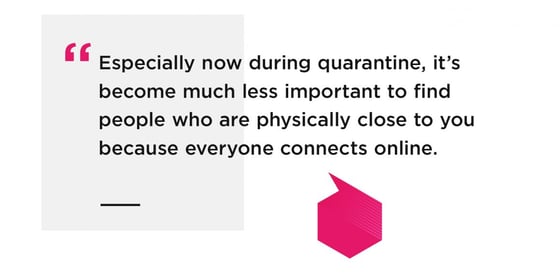 Q:

For people wanting to start a career in VFX, are these communities and mentors accessible, even when stuck at home?
A: Absolutely. I get asked this question a lot by people trying to get into VFX but don't know where to start. My biggest suggestion would be to find a community, even digitally. Especially now during quarantine, it's become much less important to find people who are physically close to you because everyone connects online. Find that community, become friends with those people, and offer what you can – whether you're a shooter, editor, or a colorist. You could even just offer to help carry bags. Find something you can provide to somebody so you can both mutually benefit from this relationship.
Q:

What's next for cache bunny?
A: Right now, I'm finishing up a client project, but I want to take a bit of personal time off after that. During personal time, as much as I say I'm not going to work, I probably will but focus on passion projects I'm excited about. I always make time to work on my own portfolio and create based on where I want to see myself.
– Lightning Round Questions –
Q:

Which DJI products are you currently working with?
A: I had a Spark but upgraded to the Mavic 2 Pro.
Q:

What's your favorite feature on the Mavic 2 Pro?
A: Everything is so user-friendly, from the design of the body to the way it folds, the accessible app and intelligent flight modes – It allows me to really focus on what and how I am shooting – but I really love the internal storage feature. I am so bad at remembering to put in a new memory card and that internal storage feature has saved me several times.
Q:

The last one is tough: What is your favorite color?
A: Yellow.
To see more of cache bunny's work, visit her official website and Instagram account.