As a powerful tool for aerial photography and videography, drones garner much of their attention for their camera and flight capabilities. But the truth is, the gimbal is probably the most critical factor in ensuring smooth, high-quality footage.
DJI's gimbal – the motorized part where the camera is mounted, which serves to eliminate unwanted movements to produce smooth, professional-quality footage – has come quite a long way over the years. What started as hobbyist pursuit has grown into a thriving product type that covers both the air and ground. As technology advances, gimbals are becoming smaller and more capable of stabilizing increasingly large cameras and payloads. As a result, more people than ever before can now tell stories with smooth, stable video. But how do these devices work and how did they come about? We asked some of DJI's top engineers about the long journey towards gimbal perfection.
Among the array of equipment on a film set, camera stabilizers are perhaps the most critical, as stable footage is essential for cinematography. Most people shoot videos on consumer cameras or mobile devices. This exposes the problem of shaky footage caused by walking, moving the arms, or even the simple act of breathing. Gimbals solve this issue, which is why you'll find them being used by professionals on almost every film set these days.
The Pursuit of Exceeding User Needs
For small and large-budget productions, professionals have embraced DJI's Ronin series of handheld gimbals, compatible with full camera rigs to achieve blockbuster shots. The latest of these, Ronin-S, came in 2018 as the most user-friendly, being made specifically for smaller consumer cameras like a DSLR. What inspired the DJI gimbal department to develop the Ronin-S? "We wanted to allow more people to shoot professional-looking videos," explained an engineer.
As the product team explains, the Ronin-S is not only a precise handheld gimbal but a versatile tool that can adapt to a variety of filming scenarios.
Among the considerations for Ronin-S was making the camera's built-in display still visible to the user. For this, engineers constructed the gimbal so that the camera would sit above an angled roll motor. This created an added benefit of providing more space for larger camera setups, but it also created an unintended challenge to overcome.
"This structural change raised the requirement for motion control." Carrying the Ronin name meant that this new addition would have to live up to the stability and precision of previous models. Engineers overcame this by diving deeper into control algorithms, solving major logistical issues along the way.
As the first Ronin made specifically for single-handed operation, Ronin-S also required engineers to come up with design aspects to accommodate for it. For grip, the team modeled the handle after a tennis racket, incorporating a thick rubber surface and a flared end for better friction. They also placed the buttons to be easily reachable with the same single hand, giving access to preset parameters with the M button.
Among more creative additions, the engineering team was particularly proud of the gimbal's 360° roll feature, which offered new possibilities for filming techniques and effects. "It's like a brand-new camera language," said one engineer, demonstrating the roll feature.
From the Ground Up
Ronin-S embodies one of the latest steps in DJI's evolution of camera stabilization technology.
It has been almost a decade since the idea of designing a gimbal first emerged at DJI. On a whim, a DJI engineer had the idea of using brushless motors to power gimbals directly. However, this concept was new to the industry, and the requirements for control precision were so high that most thought it was impossible to achieve.
That sentiment was true for several years, but tremendous breakthroughs were made and in 2012 DJI officially launched the Zenmuse Z15. This was the world's first gimbal that was driven by brushless motors and stabilized with gyroscopes, and the first high-precision gimbal for consumer use.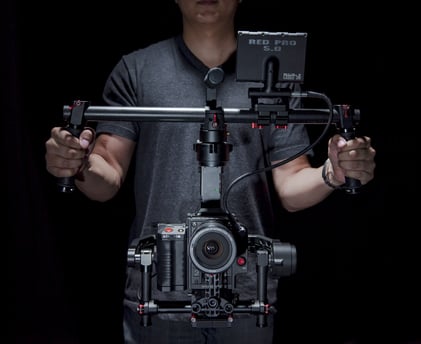 When we introduced the Ronin in 2014, this marked the first time DJI applied gimbal technology from an aerial to a ground-based product. To stabilize large cinema cameras, our team needed to develop larger motors than ever to achieve the level of professional stabilization necessary for feature films.
Alongside the development of our professional handheld gimbal line, engineers continued to explore the possibilities for drone-mounted camera stabilization. While the original Phantom and the subsequent Phantom 2 revolutionized the consumer drone industry as the first advanced ready-to-fly drones on the market, they were missing one critical component – a camera. This all changed with the Phantom 2 Vision.
Released in the fall of 2013, the Phantom 2 Vision was the world's first integrated aerial photography drone. It broke through a technological bottleneck, unlocking a new era of gimbal technology for extensive use in aerial photography. It also had the effect of making drones a game-changing tool for the industry, almost overnight.
Smaller. Better.
Pushing innovation further, it took less than one year for engineers to develop their first 3-axis aerial gimbal, the Phantom 2 Vision Plus. This started a tradition of making stabilization technology smarter and more compact, both for aerial and handheld use.
Taking advantage of the portability and lightweight design of integrated gimbal cameras, DJI launched the Osmo Series in 2015. As the first integrated handheld gimbal, the original Osmo laid the foundation for practically all handheld gimbals on the market in terms of basic structure and operating principles. It's no coincidence that almost every handheld camera gimbal looks similar to the Osmo.
At that point, two gimbal product lines were developed to target two distinct user groups: the Ronin Series for professional photographers and the Osmo Series for casual consumers. As short videos and vlogs skyrocketed in popularity, DJI launched the Osmo Mobile in September of 2016, the first handheld smartphone stabilizer.
That same year, DJI set a new benchmark for onboard gimbal cameras by launching the Mavic Pro. This would be the world's smallest consumer-level 3-axis motorized gimbal that could be mass-produced. As the team found out, reducing the size of a gimbal was no easy task.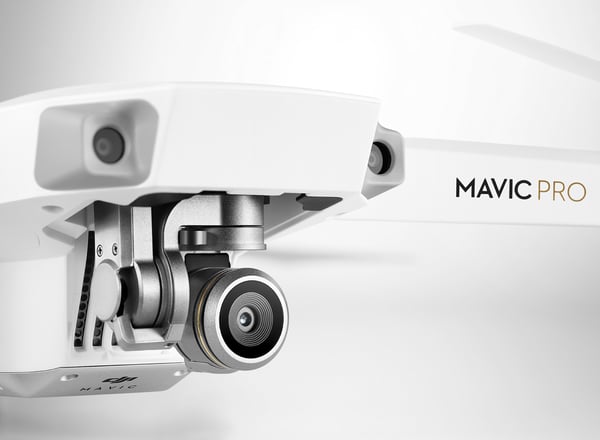 "Small gimbals are difficult to design for many reasons," explained the engineer. "At such a compact form factor, they need to allow for quick heat dissipation. They're also hard to assemble and significantly more sensitive to friction and dramatic movements."
After several rounds of trial and error, the Mavic Pro came to the market with not only the smallest 3-axis gimbal but with the first foldable body and remote controller, allowing users to bring their drone and capture amazing photos and videos from any part of the world.
In April 2017, DJI upgraded its professional camera stabilizer series to include Ronin 2. Taking feedback from the filmmaking industry, DJI equipped Ronin 2 with a higher payload capacity, along with added power and stability to meet the needs of professional cinematographers.
When DJI introduced Ronin-S in 2018, we also offered Osmo Mobile 2, replacing the magnesium alloy construction from the original Osmo Mobile to a high-strength composite to reduce weight and cost.
As the gimbals and products overall became smaller, engineers nevertheless paid attention to performance. With Mavic Air, engineers were able to achieve gimbal movement precision of up to 0.005°, which amounts to the size of half a pixel of footage. Why the need for this level of performance?
"In reality, this tiny degree range is significant to the captured footage. Anything over 0.005° and the viewer will start to notice a sense of jitter in the video."
2018 ended with DJI's smallest handheld 3-axis motorized gimbal, Osmo Pocket, a culmination of all the effort our engineering team undertook to make our technologies smaller and better so that the possibilities of creating incredible moments would find no limit.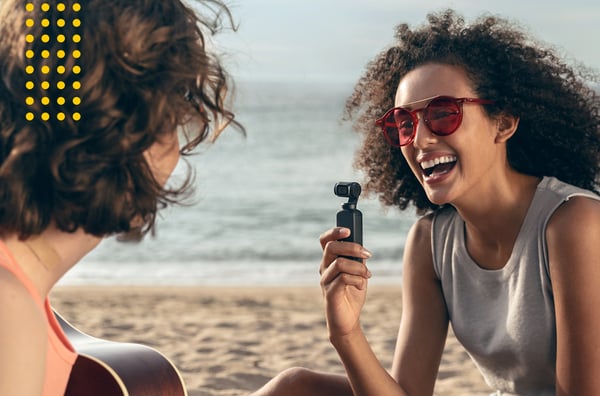 Gimbal technology has undergone rapid advancements in both handheld and aerial equipment. But it is important to remember that these achievements don't come overnight. There is no silver bullet, just the steady march of hard work and innovation, step by step.