The Head and the Heart, an American indie folk band from Seattle, Washington, effortlessly weaves poetic lyricism with beautiful melodies in an immersive ethereal experience. And just as their music creates a compelling and enveloping sensation, they have embraced a third dimension – aerial imagery – putting their artistic vision into deeper relief. They have made drones an integral part of their artistry, capturing the moments that shape them as a band and inspire their growing following. From behind-the-scenes rehearsals to live shows with the fans, The Head and the Heart relies on DJI products to memorialize their artistic journey.
The band first caught our eye when they used Mavic 3 to make for their video for "Hurts (But It Goes Away)"
On their 2022 "Every Shade of Blue" tour, The Head and the Heart began using DJI Mini 3 Pro. The latest in DJI's smallest drone lineup, Mini 3 Pro offers professional-level capabilities in an ultraportable airframe, perfect for a traveling band. Engaging their audience is vital to the demands of touring, and vertical shooting on Mini 3 Pro unlocks new possibilities for how The Head and the Heart reaches their fans on social media and beyond. While the band still uses traditional photography equipment, they turn to Mini 3 Pro for the unique aerial shots that only a drone can offer.
In this interview, bassist Chris Zasche and Penny Kapadoukakis – the band's all-in-one photographer, videographer, and social media manager – highlight how DJI products integrate into their lives and work with the band.
When did your interest in flying drones begin?
Chris Zasche: I got my first drone in early 2020. My neighbor showed me some footage he took of himself fishing with DJI Mini 2. I was so impressed that I ordered one the same day.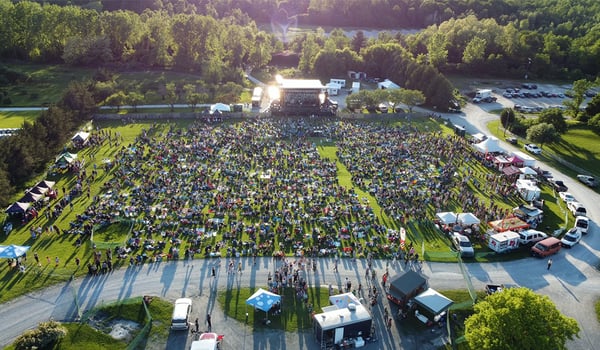 The Head and the Heart use DJI Mini 3 Pro to capture their summer tour from above.
How has the band used drones in the past and on the current tour, and what uses does the band plan for the future?
Penny Kapadoukakis: On the current tour, they've been used to capture the beautiful East Coast venues where the band has performed, especially some of the incredible sunset shots at locations like orchards and national parks. Also, capturing the audience has been incredibly easy with Mini 3 Pro, since it's able to fly high enough over the location to film jaw-dropping fan reactions to the performance. In the future, it would be awesome to incorporate using drones in music videos and also in longer live performance captures.
Where are some of your favorite places to fly?
CZ: I live out in the country, so I usually shoot what I'm surrounded by – mountains, rivers, and canyons. Sand dunes are my new favorite.
How does vertical shooting simplify your work?
PK: Vertical shooting is so handy now that everything we post also is uploaded to TikTok. Even with 4K shooting horizontally, once cropped to 1080×1920, the video loses quality. But this never happens when shooting vertical on Mini 3 Pro, since it is able to shoot in 4K, which is perfect for Instagram reels and stories, and TikToks.
What do you typically shoot while flying?
CZ: I usually shoot videos. I love the slow cinematic feel of drifting through a landscape or a low flyby. I also love experimenting with slow spirals mixed with elevation change. There's just so much to explore.

Mini 3 Pro's compact size makes it a reliable flying camera for indoor venues
What are some of the content challenges you face and how does Mini 3 Pro solve them?
PK: Some content challenges were to get full crowd shots that really blew people away and captured the magnitude of the size of the shows they were playing. We were able to fly Mini 3 Pro in the venue high enough to truly capture the scale at which our amazing fans attended the shows.
How do artistic, non-music hobbies help your creativity?
CZ: I'm very interested in visual arts, painting, photography, videography, and editing. They are all such different outlets, and it's nice to take a break from one – especially if you've reached a wall – and have another creative outlet to explore. The relationship between audio and video is also incredibly fun to work with. I've created a handful of ambient audio tracks specifically to go along with drone footage that I've shot. Video inspires audio, and vice versa.
Have you used any other DJI products while on tour?
PK: I use my DJI Ronin-S gimbal almost every day while on tour. It is so key for getting incredible timelapse crowd shots, smooth live performance clips, and following the band around each city we visit. It can hold an incredible payload as well, so that I can use my cinema camera and zoom lens for all of the on-the-go video capturing I need during the show.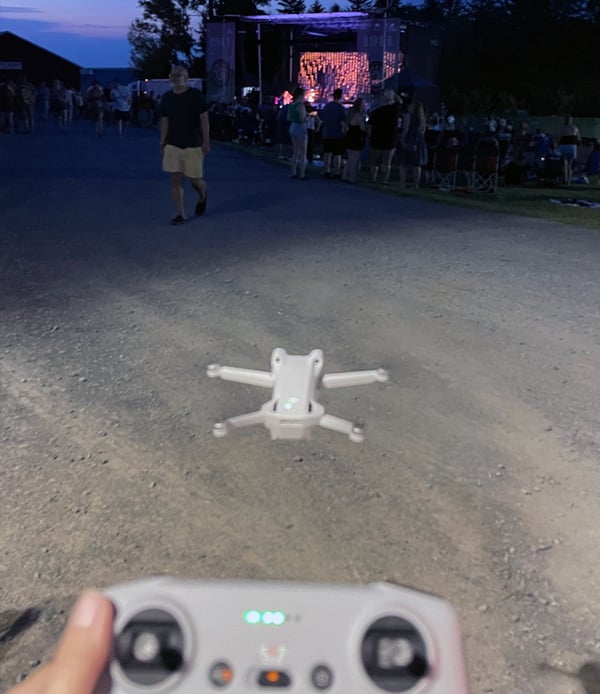 Penny Kapadoukakis and Mini 3 Pro ready for another concert flight.
Creative tools are a conduit to successful art, and The Head and the Heart have learned the small but powerful Mini 3 Pro is a perfect companion to the art that they are creating while on tour. Using the Mini 3 Pro, the band is able to capture the moments that define their artistry and captivate their fans.
Follow the Head and the Heart on Instagram and check tour dates on their official website.
Why did we make Mini 3 Pro? Find out here.