The air is filled with the sounds of birds and insects, sunlight filters through the dense canopy of trees, creating dappled patterns on exotic flowers blooming everywhere. Overall, this rainforest in the south-eastern part of Peru oozes vibrancy, lushness and the beauty of life.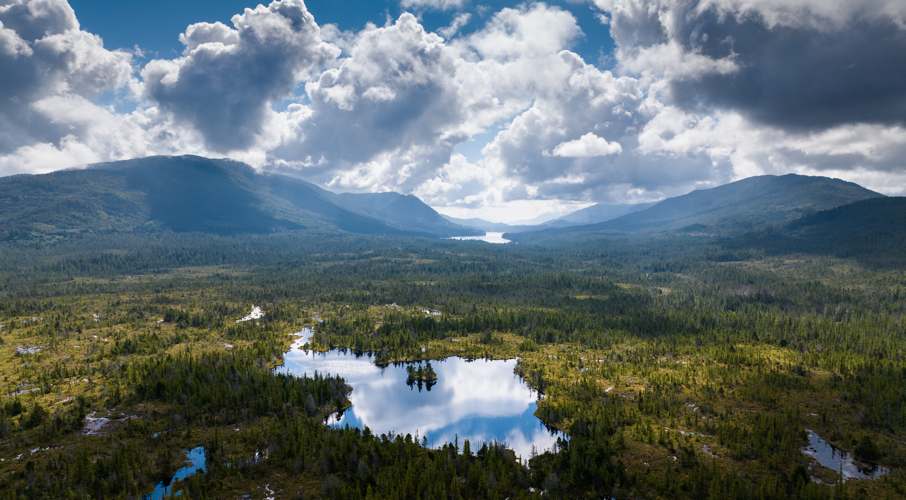 Yet, what looks like an undisturbed piece of wilderness in the middle of nowhere might be at risk of destruction were it not for Wilderness International, an organization that set out 15 years ago with a single goal in mind: to protect the remaining intact habitats of planet Earth from vanishing forever and preserve them for future generations through purchasing endangered land areas with the help of donations from around the world.
Wilderness International is based in Germany, Canada, and Peru and focuses on forest area monitoring and preservation, scientific investigation as well as media production for environmental education. Drones have become essential tools for all of their work.
Since being founded in 2008, Wilderness International has been able to purchase, and thus legally protect, more than 4.5 million square meters of valuable and endangered rainforest in Canada and Peru with the help of companies, schools, and many private individuals.
And this is how it works: Every 1 € donation protects a square meter of forest. Donors receive a personalized certificate with an aerial photograph and geocoordinates. This allows them to see exactly which piece of forest Wilderness International protect with their donation. Every one-time donation ensures the permanent protection of the forest area. For evermore- not just for one year.
Drones: A basis for transparent communication
Wilderness International follows an approach to environmental conservation that is all about transparency. In concrete terms, this means that donors can see what area of forest their donation protects, down to the square meter. To this end, Wilderness International creates aerial photographs of its protected areas with, amongst other tools, the help of DJI drones, locates the exact geo-coordinates, collects scientific data and also produces media material to make the rainforest tangible for those that don't have the opportunity to visit.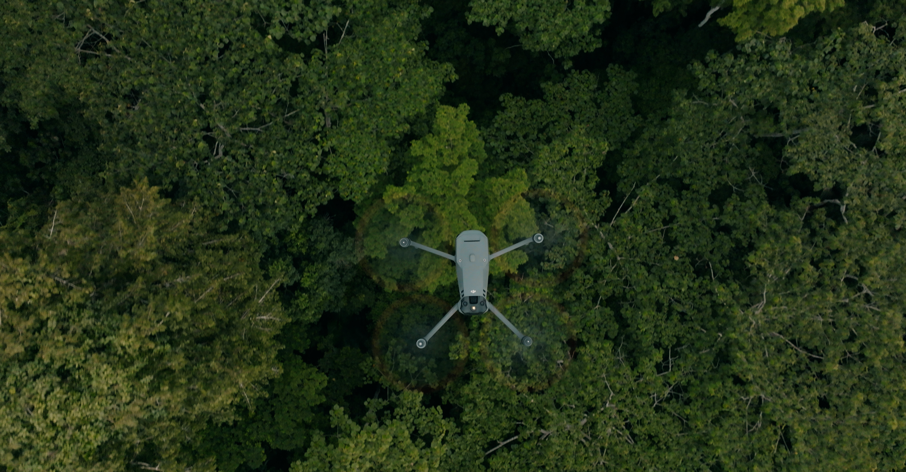 Drones: Essential tools for key environmental missions
Unknown terrain, vast forest areas and challenges that are difficult to assess - at Wilderness International, drones go on big missions. It all started in 2014 with a DJI Phantom 2, which was lost during a difficult operation in a glacial valley in British Columbia and could not be found despite days of unsuccessful recovery efforts. "We were distraught when it happened as it had been such a fantastic tool to assess forest areas from above and also document what we were doing, but we had to write it off," says Tobias Hürten, the then 16-year-old pilot of the lost drone and now Director of Wilderness International Canada. However, three years later, during another mission in the same area, the Phantom 2 was found by sheer coincidence in dense undergrowth, fiercely pierced by a bear, but with the memory card intact, including footage of the doomed flight.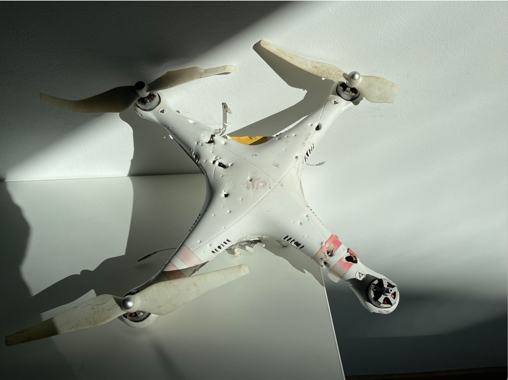 "Losing a drone hurts. The joy of finding it again three years later and even being able to save the footage - that's just incredible," says Hürten. "We took this as a positive sign: Technology and nature met, nature appeared to win, but technology still proved to be very resilient, and that's when we decided to explore the application of drones in our work further."
DJI's official partnership with Wilderness International
With the launch of the official partnership in 2023, DJI has provided Wilderness International with various drone models to create key documentation. Tom Andersch, co-founder of Wilderness International, is responsible for the organization's drone flights. "We are very grateful to DJI for lending us many drones over the past years - Mavic 2 Pro, Mini 3 Pro, the DJI Mavic 3E, Mavic 3T, and Mavic 3M drones," says Andersch. "We used the Mavic 3E for rapid assessments. At Wilderness International, we have a fast-growing base of supporters. This means we are able to assess and protect more and more pieces of land faster and faster, all of which need to be surveyed. We managed to inspect 140 ha in only 50 minutes, and I was thrilled that the Mavic 3E performed the flight autonomously. It's going to make our job a lot easier in the future."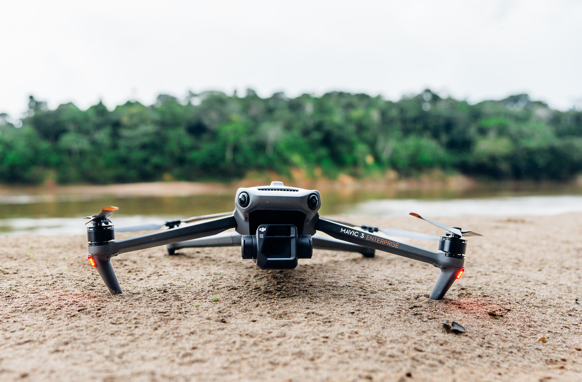 Drones for rapid assessment
Rapid assessments are a key use of DJI drones. These are quickly-executed, focused scientific data collections and investigations of areas that are interesting for purchase and long-term protection by Wilderness International. Rivers or trees are monitored from above to check ecological integrity, biodiversity as well as forest structure. DJI's drones are elemental for exploring new wilderness areas, avoiding a time- and resource-consuming, potentially dangerous expeditions, on foot.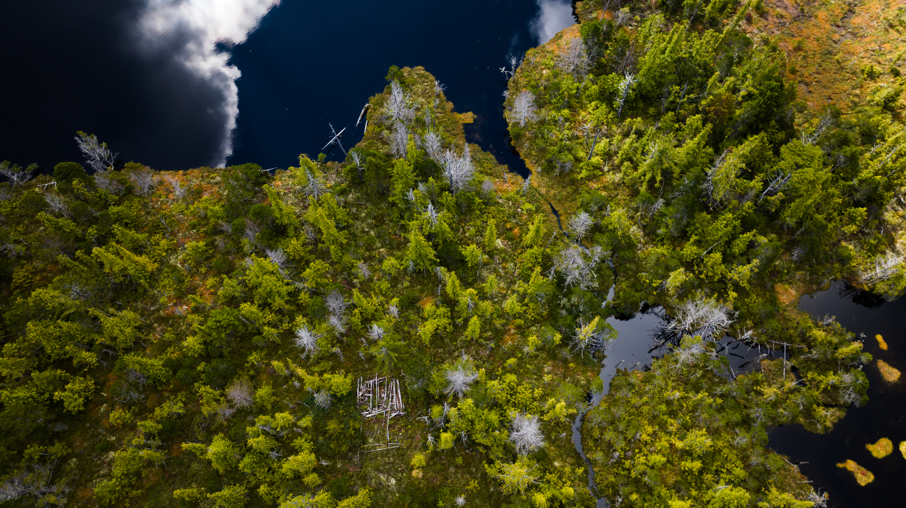 DJI's Groundstation Pro app is used in the planning of each expedition. Says Tobias Hürten: "With this app, I can actively contribute to the protection of the areas we look at. DJI's Groundstation Pro app offers an extremely fast way to plan a mission within minutes and execute it directly on site."
During these rapid-assessment flights, the Wilderness International team create high-resolution aerial images with a ground resolution of 2-3 cm/px. The analysis of the images captured by the drones helps to assess the ecological integrity and the existence of human-made structures within a forest area and leads to quick decision-making on purchasing and conserving forest areas.
Mavic 3 Multispectral to spot endangered trees
Since 2019, Wilderness International has been active in Peru with its partner organization "Fauna Forever", and here DJI also made available the Mavic 3 Multispectral for Wilderness International's missions of more scientific research on biodiversity and connections to climate change as well as other conservation-related topics. Mavic 3 Multispectral goes into deep layers of analyzing the health of trees: The spectral signature of a tree is a combination of light absorbed by, transmitted through and reflected by it, but most of that signature cannot be detected by the human eye as it lies outside the visible light spectrum. So, while the naked eye would not immediately spot slight changes in the green color of the leaves, a multispectral sensor would. The spectrum can be impacted by many things like the current stage of a tree's growth cycle, the level of water stress it's experiencing, whether it's suffering a nutrient deficiency or some kind of disease.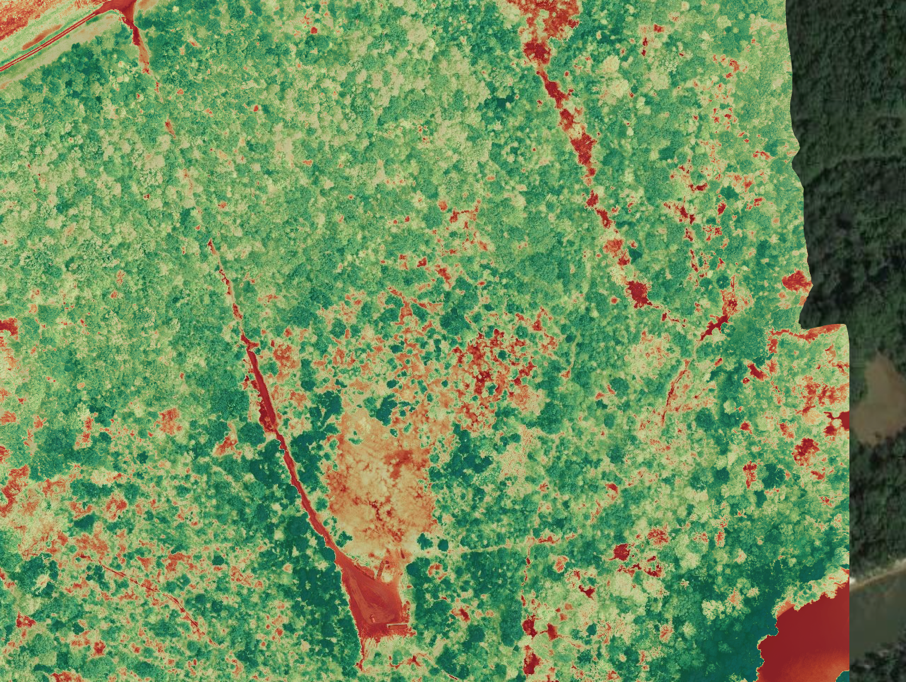 This helps Wilderness International to identify the tree species composition with the help of AI-software. Based on this information the NGO can make very informed decisions for selecting the most biodiverse forest areas for conservation.
Using DJI consumer drones to spot illegal activities
Wilderness International's missions in Peru also come with another type of challenge - illegal activities which threaten the ecosystem. The compact size of smaller DJI consumer drones is a great help in this area as they are more discreet than larger DJI models. Wilderness International forest guardian Santiago "Chiki" Durand used the DJI Mini 3 Pro in his recent work.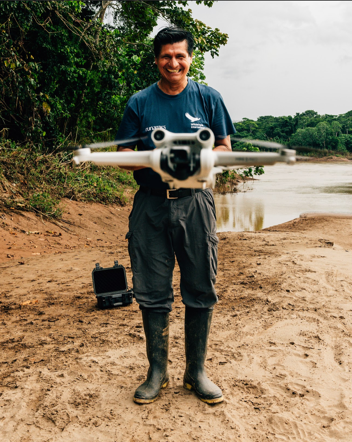 He has known the region since childhood, making him one of the best suited for the difficult ground control missions - off any trail, across the undergrowth. "Without the help of aerial tools such as drones, detecting illegal logging in a systematic manner is almost impossible and impractical," says Durand. "Previously, you would have to hire a helicopter to do this work, but that is not only prohibitively expensive, it can also be heard from miles away, so that the loggers can disappear out of sight before pictures are taken. Drones are cheaper, can be deployed spontaneously and are much more unobtrusive."
Making challenging missions possible
Transparent assessments and reporting, a regular newsfeed with information directly from the forest - the spectacular nature images taken by DJI drones provide Wilderness International with material to make the impact of its work tangible. Transparency in the form of real-time visualization, digitally available and conveniently viewable, makes it easier for people to get excited about saving key forest areas around the globe and to get involved as environmentalists. The consequences are more protected square meters of wilderness, the preservation of greater biodiversity, and another safety net as a guarantee that intact natural areas will continue to support humanity. DJI has thus embarked on a path of saying "thank you" to nature and supporting Wilderness International as a long-term partner in a critical piece of infrastructure.