Handheld gimbals have become a huge part of how consumers realize the creative vision in their mind. DJI has unfailingly put their customers first, intent on keeping ahead of what our consumers wanted and needed. This consistent prioritization played an important role in the development and launch of Ronin-SC, our newest handheld gimbal.
Designed for mirrorless cameras, the most recent addition to the Ronin line is a versatile tool that can accommodate a variety of filming scenarios. Its lightweight design is perfect for one-handed operation, freeing users to push the limits of their mobility and creativity. Even if the user's grip is less than stable, Ronin-SC delivers effortlessly smooth footage thanks to its incredible 3-axis stabilization. A trigger makes it simple to enable Sport mode for more dynamic shots or use ActiveTrack 3.0 to guarantee smooth footage. Additionally, the gimbal's Roll 360 feature offers new possibilities for filming techniques and effects.
Pulling off a product launch would not be possible without key players such as Product Manager, Eyrance Chen. Born and raised in Shenzhen, she studied medicine in school, never imagining she would one day work for a drone company. When asked about her thoughts on Ronin-SC, Eyrance responded, "We listened to our customers. We wanted to provide whatever they wanted." Customers asked for a lighter, more compact handheld gimbal, so we went to work. However, the road to get there was not always as smooth as footage from Ronin-SC.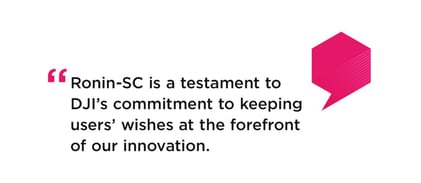 One of the main challenges was making the product lighter while keeping it powerful. Stronger motors ensure that no matter how you move, the gimbal remains steady. More power also provides more responsiveness and control. The trick is to achieve all this while making the entire device lighter. The difficulty lay in finding the sweet spot for a product whose primary function is to maintain balance.
The "SC" from the product name stands for Ronin-S Compact. To create a lighter, more compact structure, we crafted Ronin-SC from magnesium alloys, which grants a lighter weight while retaining durability. The device is also comprised of aluminum, steel, and high-strength composite plastic. The result was a robust handheld gimbal engineered and designed for convenience, transportation, and holding for long periods of time.
Another obstacle we had to overcome was reliable testing. Reliability is an issue when using simulated weights since the distribution of weight is less accurate. DJI conducted thorough tests using a wide variety of real cameras and lenses. Using actual payloads as opposed to block weights helped make Ronin-SC precise, balanced, and versatile. It supports a payload of 2.0 kg and is compatible with a seemingly endless list of mirrorless cameras and lenses.
Ronin-SC is a testament to DJI's commitment to keeping users' wishes at the forefront of our innovation. Putting the customer first is what enabled us to make a product that allows everyday consumers to create professional-level content effortlessly.