In the midst of the CoronaVirus, extreme athletes Alexander Schulz and Rafael Bridi set a world record by walking the first slackline above an active volcano of Mount Yasur on the remote island of Tanna (Vanuatu). We spoke with Johannes Olszwewski who produced the film LavaLine and captured the momentous event.
Take a look at this teaser video for a real-life look on how it feels to walk above an active volcano
When did you first start making films?
Our company name "One Inch Dreams" tells the story of how we came to be. We were a young, wild, adventurous group, always on the lookout for the craziest places to slackline. We set world records in Inner Mongolia and Mexico City and have traveled from the west coast of the US to Iran - always in pursuit of finding the perfect, most spectacular and aesthetic slacklining location.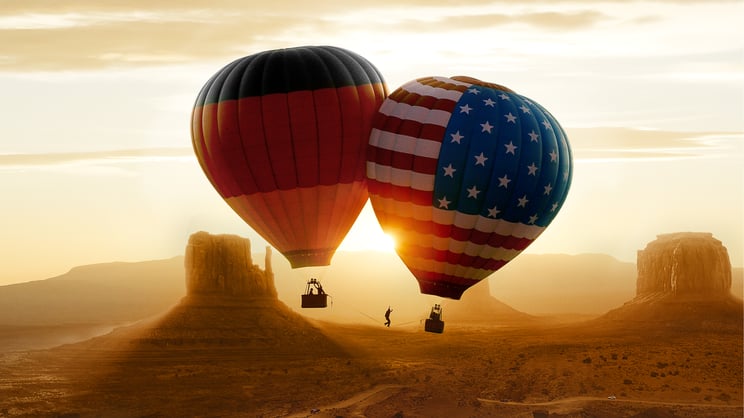 At the time, we were slacklining purely for the sport and never imagined that our passion could turn into a career. Gradually over time, our focus changed. Through slacklining, we met a lot of different people through amazing interactions. In time, I discovered my passion for narration through film as a way to present those experiences. Alexander began taking on the role of appearing as our athletic figurehead while I became more involved in marketing, reaching out to various brands about our sport. Little by little, we developed into a full-fledged film production company that is the most at home in the great outdoors.
How did you come up with the idea of a slackline run over an active volcano?
Alexander came up with the idea - he was strongly influenced by his childhood experiences with his father Raimon. Raimon is a hobby volcanologist and an adventurer through and through. When Alex was six years old, Raimon took him to Etna in Italy, where he saw and felt firsthand the forces of nature at an active volcano – an impactful experience for young Alex. It has fascinated him ever since and sparked his passion for volcanoes.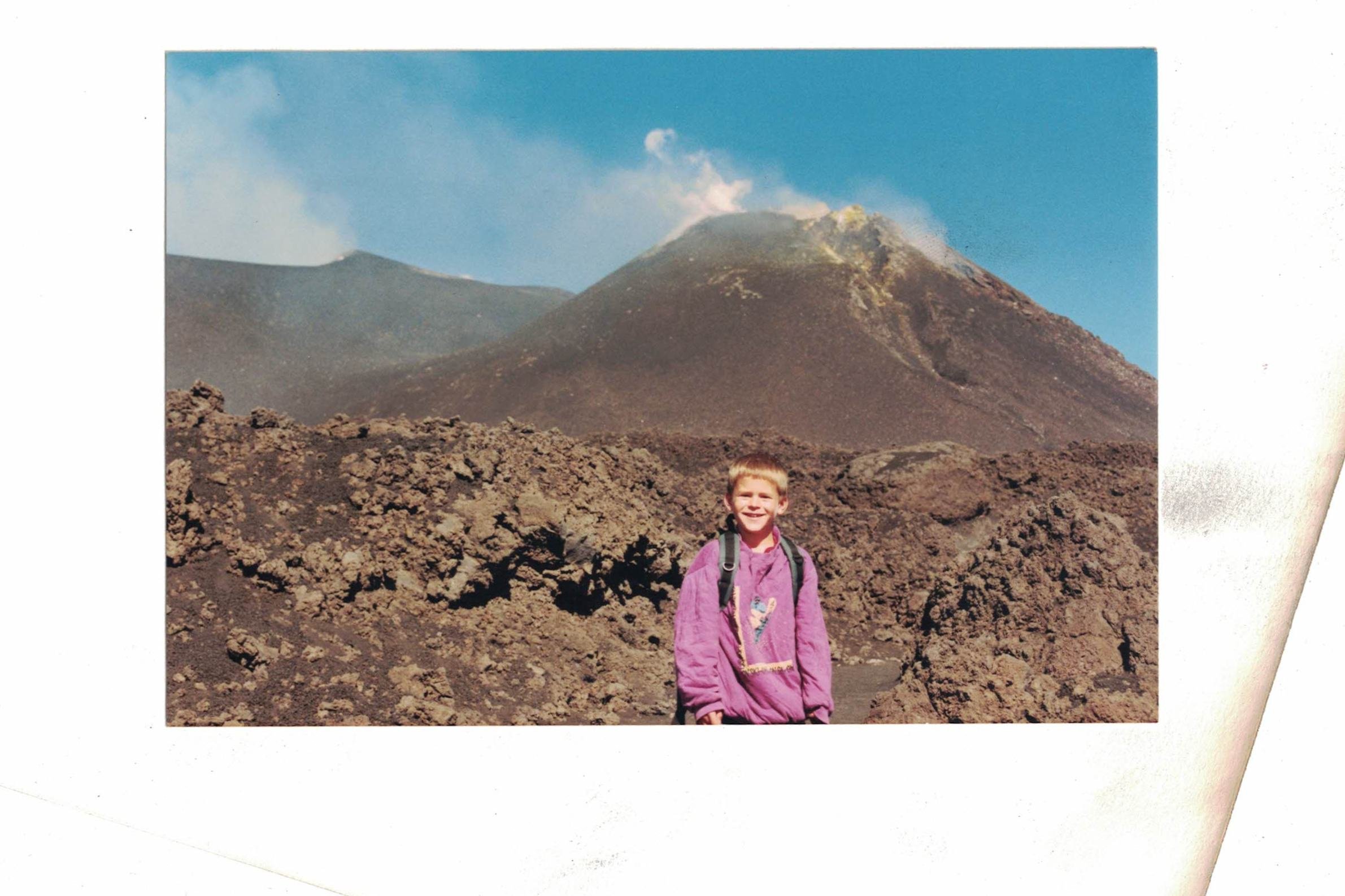 Late 2019 and early 2020 was a crucial time for us. It was just after we finished the post-production of our latest film #BuildingBridges for the German Foreign Office. We began pitching LavaLine as an advertising project for a big car manufacturer. Our idea was to film a commercial around a slackline over the volcano anchored by two vehicles. We pitched the idea to various big agencies and they loved it. We worked with several different companies but it ultimately ended up being canceled due to safety concerns. But not for the reason you'd think: the executives were more concerned about their corporate and product safety than for our safety and well-being.
In hindsight, I'm glad that it turned out the way that it did. I questioned my motivation behind the project and realized I didn't want to do the project to build our portfolio or make money. I wanted to experience the adventure and thrill of it: we wanted to discover and experience this untouched place on the other side of the world. So, Alexander and I decided to produce LavaLine ourselves.
Which volcano did you choose and why exactly that one?
The first volcano that came to mind was the beautiful Erta Ale in Ethiopia. The second and third that came to mind was the Masaya volcano in Nicaragua and the Nyiragongo in the Democratic Republic of Congo. However, after more thought and thorough research, we concluded that the situation in these countries was too unstable for our security. We then stumbled across Mount Yasur in Vanuatu on the beautiful little Island of Tanna. Vanuatu is an archipelago consisting of 83 islands about 3,000 km northeast of Australia in the South Pacific and Yasur is considered to be one of the most active volcanoes in the world. After seeing pictures of it, we knew that we had found our LavaLine destination.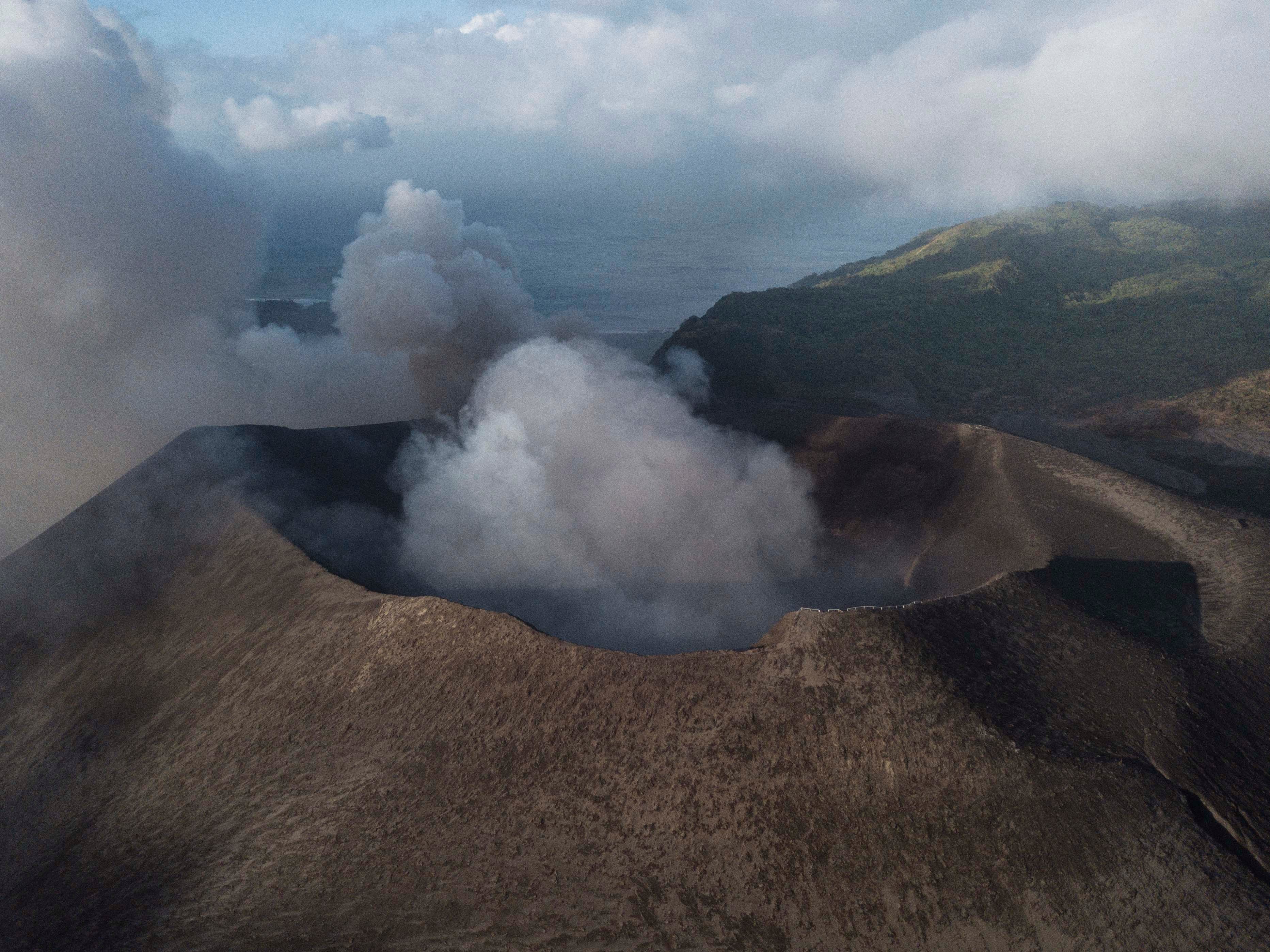 You produced Lavaline during a global pandemic – what was the biggest challenge and how did you manage it?

Going into the unknown was the biggest challenge. I knew from the get-go that we would be pushing limits. Safety was our top priority but we also wanted to get as close to the lava as possible to achieve our vision. It quickly became clear that other than the safety of the athletes, logistics would be our biggest challenge. There are fewer places in this world that are more distant and difficult to reach than Vanuatu. I put together a small, flexible team and a simple, yet high-quality shooting setup that would be able to follow our athletes, Alexander and Rafael Bridi, while they slacklined over Mount Yasur.
The preparations never stopped: medical examinations, customs documents for the equipment and of course, extensive discussions about the infrastructure on site. We would only have one power generator, which determined which equipment we could take. We also had to consider how to protect ourselves and the equipment from the volcano's toxic fumes and lava bombs on top of the acid rain and extreme humidity.

Thanks to our prior production experience, we had an idea of what we were getting into. With every project, we reconfirm that while nothing can be planned perfectly, often, that's where the real story lies. While there are many uncontrollable outside factors, one thing I never compromise on is the look and quality of the shot.
When we arrived in Vanuatu, the coronavirus crisis had worsened at a much rapid pace. When we left Germany, it wasn't apparent yet that the virus would take such a drastic turn, but while we were crossing the globe, countries were closing their borders. Our volcanologist spent two months in quarantine in New Caledonia and in the end, was not able to join us. Our fixers from Munich were not allowed to leave the country and our cameraman had to take a detour via the US, which also closed its borders just four hours after his transit. Shortly after our arrival, a national state of emergency was declared. With a fragile health system, Vanuatu only has two ventilators on the main island of Efate for its 300,000 inhabitants.
Regional flights were banned but we had to get to the southern island about 200 km away. The only possibility was to charter a flight. At the very last moment, we rented two planes, removed one of the doors of the plane, fastened our DP Felix Reichert, and spontaneously made an aerial shoot. As fate would have it, it became one of the most wonderful experiences of the entire production.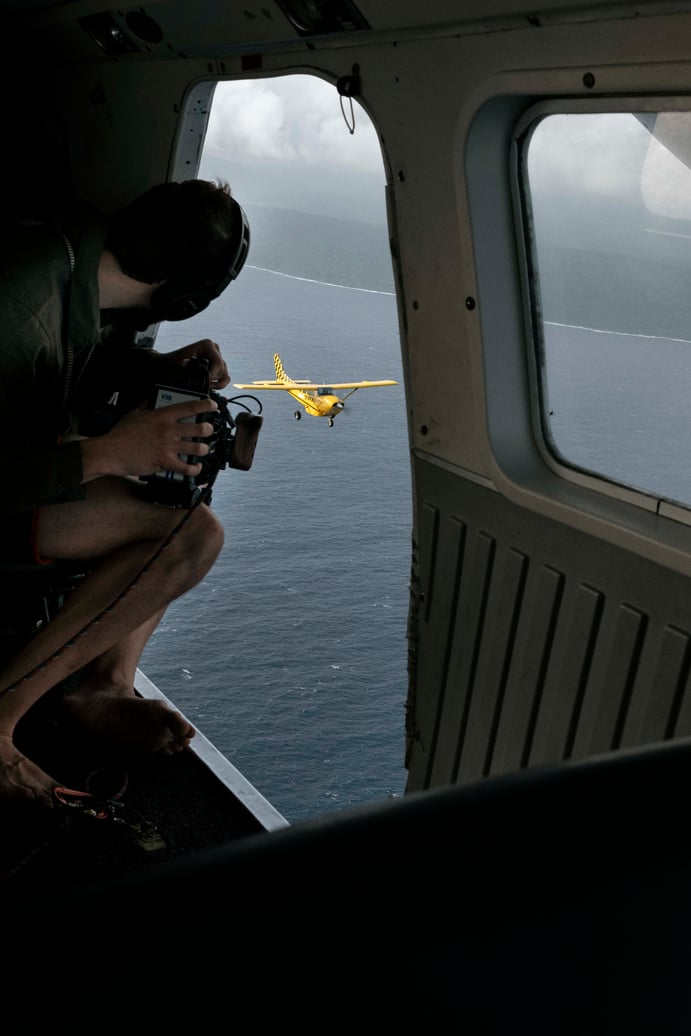 The plane with Alex and his father took a lap around the erupting volcano and we got our first establishing shot for LavaLine. I felt like I was in an action movie. We were 500 feet above the densely overgrown, deep green jungle heading for the volcano, accompanied by the roar of the propellers through the open door of the airplane and the second plane right next to us – it was a moment of pure happiness.

Normally, the volcano is a huge tourist spot, but because of the pandemic, we had it all to ourselves and could move freely. We originally planned on staying on the island for two weeks, but ended up staying six. In that time, we got to know the locals, and they took us into their homes and cared for us like family. In those weeks, we developed a real sense of home. We were able to give back to the community during our extended stay - something that probably would not have happened if we only stayed the originally planned two weeks. On our days off, we helped create a small COVID-19 awareness campaign for the citizens of Vanuatu. They helped us so much, and we wanted to give something back.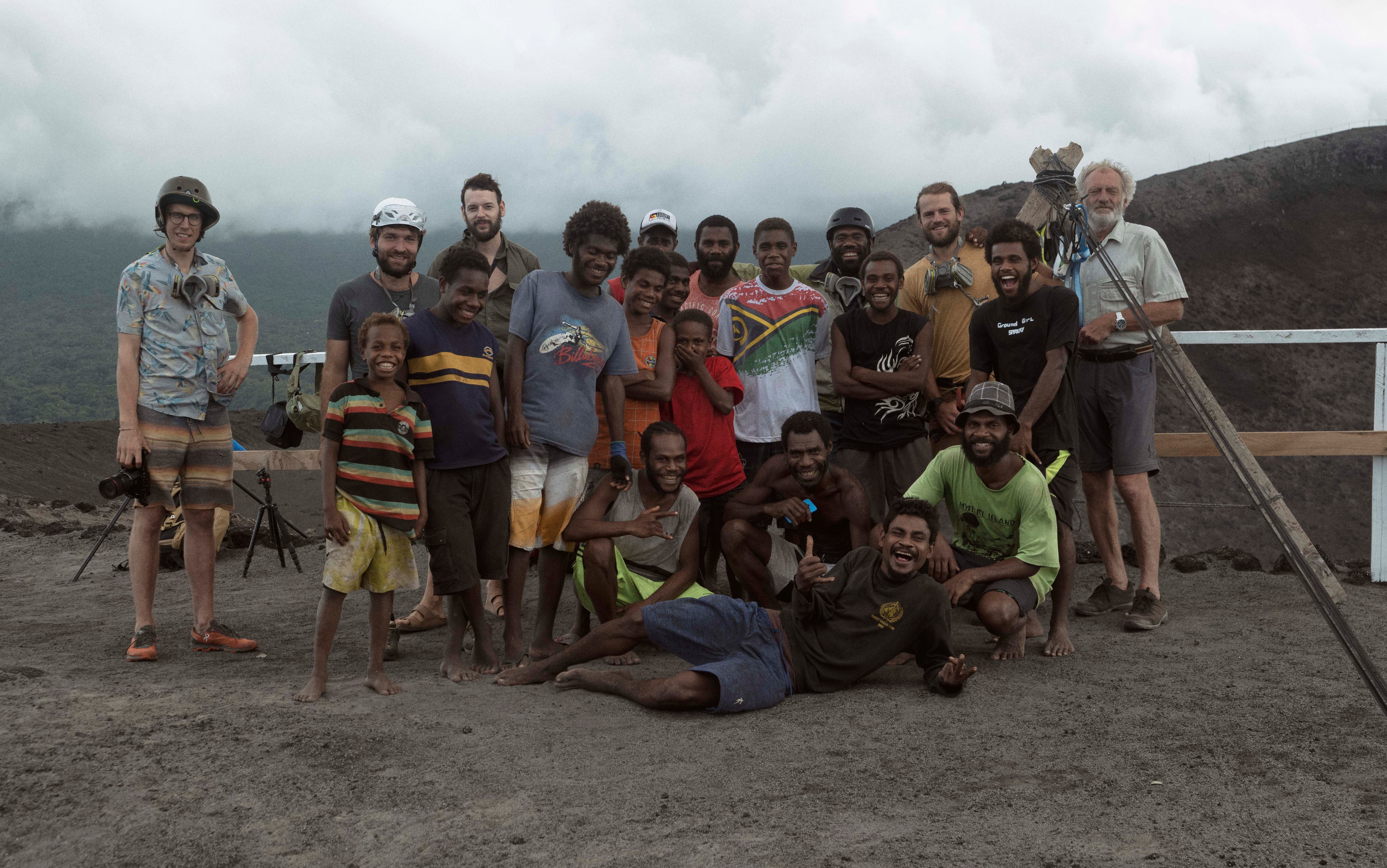 Which drones did you use to shoot the aerial images for LavaLine?
The establishing shots of LavaLine and the principle aerial photography were a high priority for us. We brought an Inspire 2 with all existing primes, two Mavic 2 Pros, and one original Mavic Pro.

There is one particular moment I remember vividly and will remember forever: the day we arrived at Tanna Island, I could not find the probes for the Inspire 2. I searched everywhere and they were nowhere to be found. I had a flashback and realized they were in the wrong equipment bag and with our volcanologist stuck in New Caledonia. We shipped the Inspire 2 with all its accessories halfway around the world in the joyful anticipation of this film and the most essential components were missing. Flying without props is impossible. I was unconsolable and angry with myself. Luckily we brought the backup drones.
Sometimes things don't go as planned – how did the Mavic 2 Pro's perform?
My goal was always to bring back cinema-ready images, so we needed reliable equipment that could withstand the inhospitable environment of the island of Tanna filled with sand, acidic ashes and poisonous gases from the volcano. After the faux pas with the Inspire 2 we tragically lost another drone in an eruption of the Yasur. I was on edge when flying our last backup drone. Thankfully the DJI Mavic 2 Pro and its CMOS-Sensor and 10-bit camera is super reliable and was the perfect backup drone for what we needed.

We have a long history in working with DJI products in harsh settings and they never let us down in picture quality or dependability. Blake Jones, our colorist who did the first grading tests was fascinated with the drone and said, "the 10 bit of Mavic 2 Pro's Hasselblad camera has a tremendous amount of latitude, making it easy for me to create and apply the look for the project."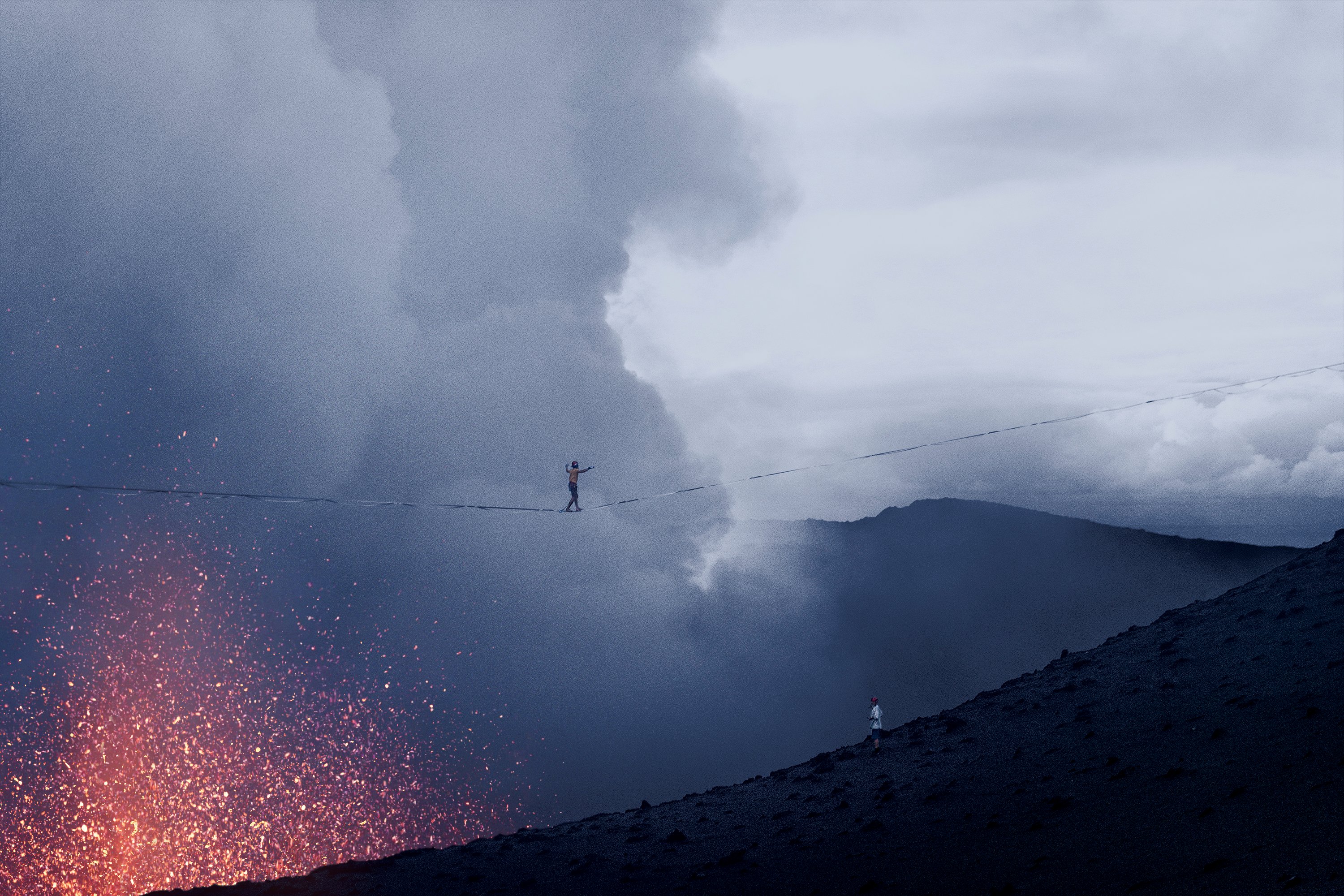 The environment around a volcano looks tough – what was it like?
I can still see the eruptions of the volcano and pressure waves in my mind. The eruptions were so strong that the ground beneath us vibrated and our cameras shook. Sometimes they even shook Alex and Rafael off the line. I remember thinking myself, this is how war must feel.

Those six weeks on Vanuatu were one of the greatest adventures of our lives. The opportunity to look straight into this inferno made me feel like a small part of a powerful whole. The unbelievable power of nature makes me believe that there is something bigger in this world, whatever it may be. After the indescribable moments at Mount Yasur, I also began to understand why the people of Tanna pay so much respect to the volcano.

With production under extreme conditions, nature has to want to cooperate with you and in turn you must respond with respect. Producing LavaLine taught us that even if something is perfectly planned, there will always be unknown variables that must be met with intuition and improvisation. In the end, it's always a game of chance. Only patience, perseverance, and acceptance of the external circumstances got us through it.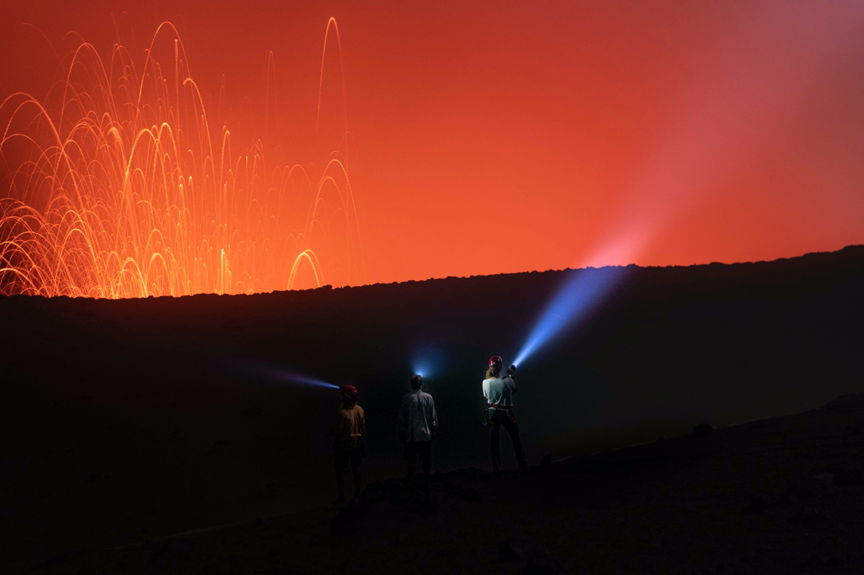 What comes next and when will you release the full length LavaLine film?
It's taking a while to let the entire experience sink in, and I need a certain objectivity before we start the editing. I don't want to give away too much about the film itself, but I already know that it will be longer than the 45 minutes I had initially envisioned. Part of my idea was to create a film that draws a better picture of Alexander's character while narrating the development of the community sport slacklining in all its aspects.