What does it take to introduce a new product to the whole world? At DJI's marketing department, our job is to always find a creative, unique, and memorable answer to this question. From the moment our R&D team comes up with an innovation, it's our turn to roll up our sleeves and get to work. And this always includes one centerpiece: the launch event.
When it came time for Mavic Mini, we planned not only one launch event, but several. From the USA to Indonesia, Frankfurt to Tokyo, here is the experience of the Mavic Mini official launch, told from the eyes of six DJI employees who traveled from the Shenzhen office to help Mavic Mini say hello.
No Two Launches Alike
After finding the right venue, a typical DJI product launch includes a usual flow. There's a keynote presentation to share the new product and its features, a live demonstration of its capabilities, a hands-on experience for guests to try it themselves, and of course, a chance for media outlets to take photos and ask questions. From there, the similarities end.
"My first launch event was here for Osmo Pocket," shared Melanie Keegan, Senior Copywriter, while at the New York City launch. "With Mavic Mini, we wanted an event scale to best fit one-on-one conversations with media and hands-on experiences with guests." The opposite side of the globe told a different story. "This was our biggest launch ever in this country!" Ruby Li, Marketing Manager for Japan, recounted the Tokyo launch with a zeal that made you think she just came back from a rock concert. "With a media launch, dealer event, and after-party, the hashtag #MavicMini cracked the top 20 Twitter topics in Japan that day!"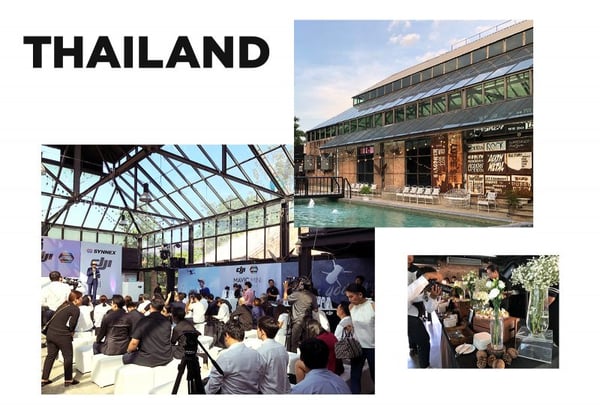 Depending on the location, how each launch was arranged also highlighted cultural flavors. Communication Specialist Sally Wen noted that for her launches in Kuala Lumpur, Jakarta, and Bangkok, "food plays a super important role in local people's daily life, so we made catering the highlight here, and it did the trick!" Meanwhile, in Frankfurt, Senior Copywriter Ryan Nimmo witnessed German efficiency in full display. "WOW. The event was so thoroughly planned, there were times I felt a bit useless. My colleagues' level of preparation and execution was truly amazing."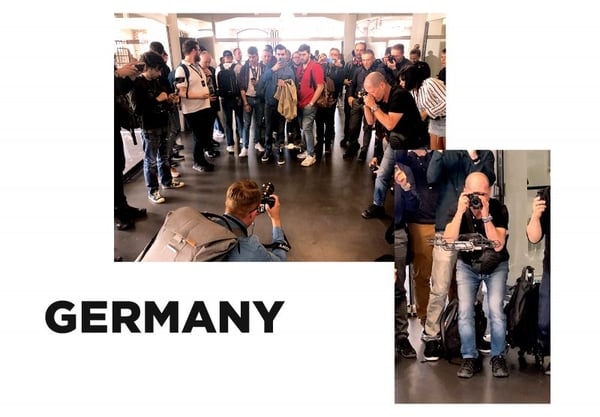 A Story to Share
While the parties and hors d'oeuvres were welcome additions to the day, let's not forget the star of the show. Since we can only make one first impression, how did we want to introduce the new drone?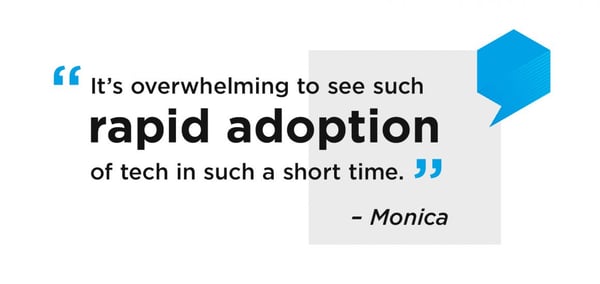 Monica Suk, Corporate Communication Manager, has witnessed the introduction of drones evolve since her first launch of Phantom 4 three years ago, a time when not many people even knew about drones, let alone what they could do. At the Seoul launch, she pointed out a dramatic shift. "When we released a new drone three years ago, not many people even knew about what they were, let alone what they could do. Now, journalists who come use a drone for work or as a hobby, so now they want to know what's new. It's overwhelming to see such rapid adoption of tech in such a short time.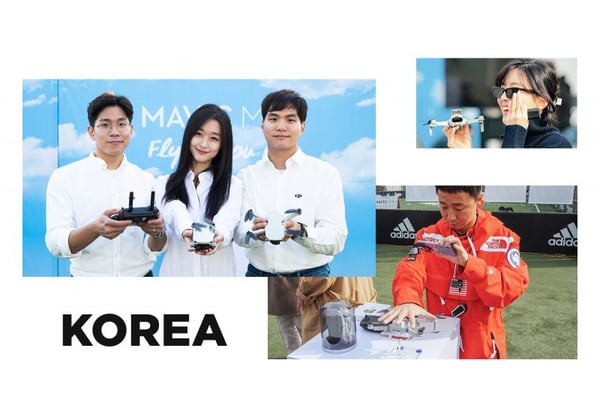 What's one new thing to share about this drone? According to PR Manager, Anna Chen, it's about direction. For the launch in Sanya, China, "We want to show that Mavic Mini is the best beginner drone we've ever launched, bringing a new perspective for everyone's daily life."
About That Weight
Every new drone has its own features and specifications, the standout for Mavic Mini being 249 grams, just shy of the 250-gram threshold for regulation in several countries. It turns out that this was quite the talking point after all.
"There was an audible gasp," recalled Ryan. "As savvy tech journalists and drone users themselves, the media guests knew how significant this number is in terms of drone regulations around the world."
"Even though Korea doesn't have any listed regulation for drones above 250 g, portability was definitely a factor that got people with no prior drone experience interested in learning more," shared Monica.
Maybe the biggest surprise was in Japan, where local laws stipulate laws for drones at 200 g. "We did our best to keep the secret that Mavic Mini would be available in Japan at just 199 g," explains Ruby. "We succeeded, and the reception was incredibly warm, as it showed that DJI prepared for the needs of a specific region."
The Everyday FlyCam
Speaking to the media at a launch event gives a unique preview of how the whole world might react to a new product. Each location offered a unique glimpse of how drones are fitting into daily life.
From Sanya, Anna noticed that "When they tried Mavic Mini and the new DJI Fly app, they saw a drone that was friendly for beginners like I haven't seen before."
For unique content creation, Monica sees Korea as the perfect place. "This is a content-rich country, with film, TV and music acts that easily create fans from all over the world," she shared. "Naturally, people always look for new, creative, and accessible tools to capture their stories." With Mavic Mini, anyone can make the content they've only dreamed of.
Aside from its ease of use, Mel noted that the NYC reaction revolved around how capable Mavic Mini is, despite its size. "It's so small it seems like a toy, but it can go toe to toe with many if not all of its larger counterparts."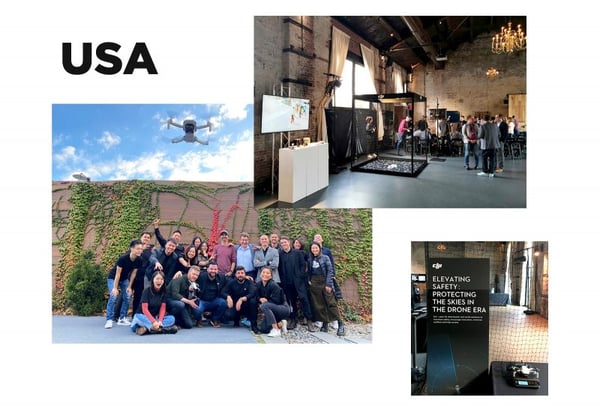 As a EU member, Germany has clear, often strict drone regulations, which is why Mavic Mini is a welcome addition to the region. "Legally speaking, this drone is in the lowest-risk category here," explained Ryan. "Even people here with a Phantom 4 Pro were excited to see this drone available, because they were telling me how much more freedom they would now have to fly and make great photos and videos."
Bringing the point home in Jakarta, Sally summed up her impression from the guests: "from now on, consumers can start to consider the drone as an everyday gadget."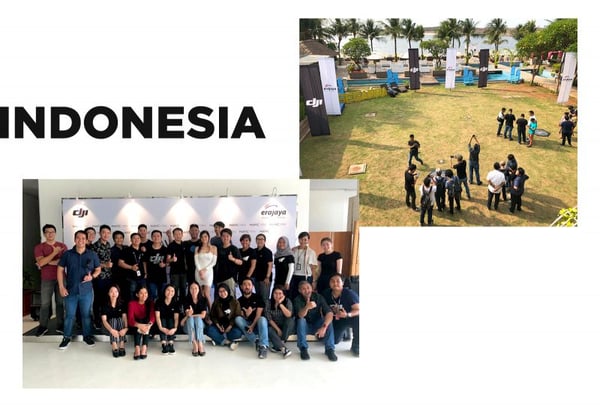 Making the Dream Work
While a launch event passed by in a blur for our six colleagues, the truth is that teams spend days, weeks, and even months to prepare every detail. Sally briefed the speaker with new notes moments before the event started. Anna helped arrange guests to their tables for the event buffets. Although a copywriter, Mel put it upon herself to lift stage flooring and set up flight cages on the spot. So why the effort.
Monica sees these events as the perfect place for genuine, real-time feedback. "Every new product brings at least one special and innovative feature, so we want to hear every single question or suggestion because it's crucial to help us improve."
Ryan prepared Mavic Mini copy several months in advance, so he saw the launch as the end of a long journey. "This was my first-ever launch and my first trip to Germany. It was a total blast, especially watching guests react to all of the things our team had been discussing and working on for so long."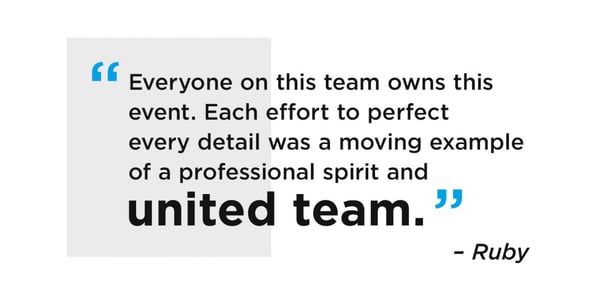 For Ruby, the Tokyo launch was a bittersweet moment, as it was also the last day for two of her colleagues in the company. "Yamashita took responsibility for all operations, including the keynote, and Tanaka was there to edit content, especially for on-the-fly changes. Instead of thinking of themselves, they used their last day to work so hard for this event, even finding a cloth to wipe the sample Mavic Minis after every use. They reminded me that everyone on this team owns this event. Each effort to perfect every detail was a moving example of a professional spirit and united team."