COVID-19 turned multiple industries upside down causing many to scramble to adjust and adapt in order to survive. Among them: the music industry. With thousands of shows and festivals cancelled, clubs and venues closed, many artists faced adversity with resilience and creativity. As we surpass the one-year mark since COVID-19 was declared a global pandemic, we sat down with Grammy-Nominated DJ Morgan Page to talk about the pandemic's impact on his industry and how he's been incorporating various new technology, most recently DJI FPV, into his wildly successful livestreams.

Congrats on your first-time Grammy nominations! What was your reaction when you found out?
Thank you! It's a really bizarre feeling because you never expect it and suddenly, you get a ton of texts from people that found out before you. It's definitely an honor, and it was fun to be able to return the favor for Deadmau5.
How did you think COVID would affect the music business when it first appeared?
Even after Ultra Music Festival was cancelled, I initially thought this would be temporary and that life would return back to normal in a few months.
When did you realize this would be a long-term issue, not just a temporary hiatus? What changed for you as a result?
When schools started closing down it became clear that COVID was going to be here for a while.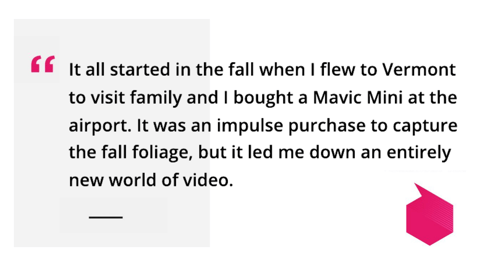 How did the music industry shift to accommodate these changes? Will any of those changes remain even after the world returns to normal?
The biggest shift was pivoting from live concerts to streaming sets from home and exotic locations, virtual festivals like Tomorrowland, and drive-in shows. Overall video consumption has skyrocketed and that trend will definitely continue to stay.
I imagine more festivals and clubs will begin to livestream their sets and hopefully implement a paid ticket model that works. The live stream space has become really saturated so the challenge will be creating valuable streams that people feel are worth paying for.
Other than the obvious physical presence, what is the biggest difference between performing live vs playing a live stream for you?
Live performances have a specific electric energy - streams are great and while you still get those nervous and excited butterflies in your stomach, the only response from your audience is viewer chats and numbers. Even drive-in shows feel different because the stage is so far from the audience and people are in their cars.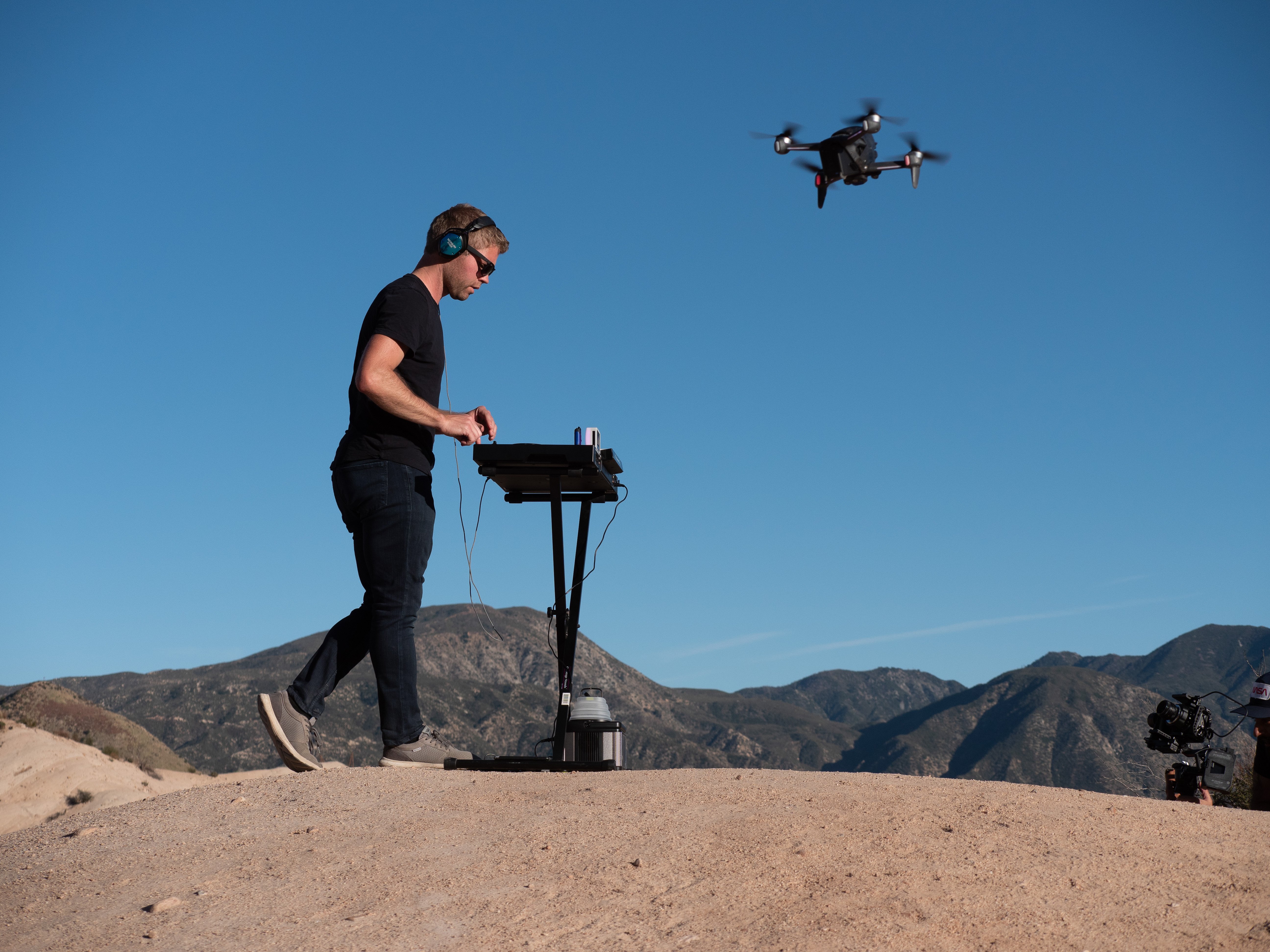 How did you think to use drones? How have you been incorporating them into your streams?
It all started in the fall when I flew to Vermont to visit family and I bought a Mavic Mini at the airport. It was an impulse purchase to capture the fall foliage, but it led me down an entirely new world of video. The goal of my streams is to showcase a different exotic local LA spot that captures the imagination. Why not DJ on top of a mountain or maybe a vineyard? The remote streams are challenging but incredibly rewarding. To keep costs low I learned to edit and color-grade in DaVinci Resolve. A big part of the remote streams is self-sufficiency: keep the costs low, keep the crew small, and turn the videos around quickly.
What gets you most excited about filming these incredible live streams?
The complexity is always exciting but I also like the process of iterating. On each shoot I learn something new that I can apply to the next stream. It might be using handheld stabilizers more, getting a certain angle that really worked, or applying a combination of drone movements to look like a rising orbit. I love combining conventional moves to create new looks.
How do you make the most out of your livestreams?
The most crucial part is combining highlights from the streams and spreading on social media - not everyone has the time to watch an hour DJ set, so it's fun to tag artists in clips and see them get really excited about it. Overall it's changed the way I approach my brand because now video is everything. What does a song look like? Can you build a world around a song?
What has been your favorite livestream so far?
Mormon Rocks is probably my favorite because we got to use DJI FPV and really show off what it can do in extremely rugged terrain.
Has COVID influenced any of the music you've produced this year?
Even though a lot of the music I released in 2020 is darker, overall the music is less aggressive than usual. There is a movement away from the "arms-race" of bigger, more energetic tracks, and so I am now focused on good songwriting and making songs that will hopefully still be popular in 10-20 years.
What are some difficulties you expected to undergo during COVID and what are some unexpected challenges?
Overall the hardest part was not being able to tour - that's 90% of my income - I had to cancel more than 60 shows. The biggest challenge as I pivoted to video and live streams was troubleshooting hardware issues, software bugs and bandwidth constraints from internet providers. A big issue I ran into was that in LA, home internet upload speeds are capped fairly low. It's fine for consumers, but not for creators!
What's a new piece of equipment you've recently found yourself reaching for over and over again in the last year?
The DJI Mini 2, Blackmagic Pocket Cinema cameras and video switchers, and the OWC SSD drives.
What are some key points you take into consideration when planning a livestream?
To keep the show interesting, I really focus on planning out key camera angles that switch automatically based on a preset timer. I also incorporate a projector rather than a green screen to add a cooler effect. Each week I play an entirely different set so I spend a lot of my time organizing music and preparing. Copyright takedowns are a huge pain so I work with certain major labels to get whitelisted for catalogs.
This is great for Youtube, but Facebook and Instagram have a zero tolerance policy so the streams are cut within minutes. They don't give you an indication of which song caused the takedown or who the copyright owner is.
The most challenging type of stream is a remote one because you're working with natural lighting, hauling the gear, supplying your own power, and generally dealing with a lot of unknowns. Also since I'll be DJ'ing, I have to communicate with the drone pilot beforehand about the type of shots I want to get.
How did you come about the idea of working with DJI for this particular stream around the Grammys?
For years electronic music didn't even have its own category at the Grammys, and so I wanted to bring attention to the genre. It felt like a natural match. DJs and electronic music have always embraced technology early on, as you've seen from early podcasts now to NFTs. This year we've seen DJs play sets at castles, fjords, volcanos, and even in hot air balloons. There is simply no way to get these shots at remote shoots without drones, unless you're renting a helicopter which is both expensive and dangerous.
Have you collaborated with other artists during this time? How are they dealing with the changes?
During quarantine I worked with artists around the world from South Korea to the Netherlands. The collaboration process didn't change much, we still swapped music stems, sent feedback and hopped on Facetime calls. At one point, one of my collaborators in Tokyo started playing live shows again but went back to lockdown after new outbreaks.
What are you most looking forward to in the coming year?
I'm most looking forward to being able to tour again, experimenting more with video and NFTs, and exploring how technology can further shape the music experience.

You can check out Morgan's latest livestream studio broadcast, as well as his Live From Verdugos and Mormon Rocks sets.
Check out a behind-the-scenes of his Mormon Rocks live stream as well as his top tips for shooting a remote DJ set here.