Over the past decade, DJI and the commercial drone industry have grown at a rapid pace. In creating products that show the extent of our innovation, we have also increased the diversity and number of people who use our products. In celebration of International Women's Day, we are sharing stories of female pilots around the world who have contributed to pushing the boundaries of innovation.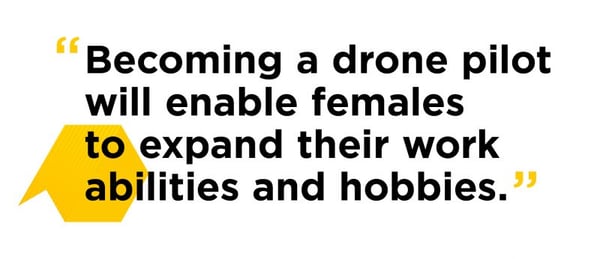 In this post, we will introduce Yumiko Shinnou, founder of Horiko-Farm, an agriculture solution provider that specializes in managing crops using aerial image data from drones. Yumiko, who used to work in the apparel industry in Osaka, is now back in her hometown Awaji Island, operating on Japan's third-largest onion field. Through a recent interview, she shares how she is currently helping the local community use smart agricultural solutions to generate more efficient production.

Q:

Could you share how you started this new career?
A: I love taking photos. I have been using my camera to monitor the growth of my vegetables, which is now the core model of the business I founded. My company focuses on using drones for managing vegetable growth, as there are many advantages from capturing photos of fields with a bird's-eye view.
About a year and a half ago, I tried flying a drone for the first time while helping shoot promotional videos for Awaji Platinum Farmer Girls, a group of female farmers in Southern Awaji, Kobe. Since then, I became more actively involved in agricultural activities. Shortly after, I attended a lecture on drones and became incredibly interested in using drones to monitor vegetable growth effectively.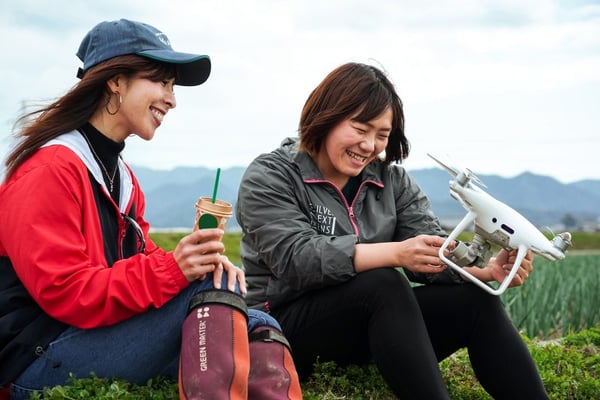 Growth management is essential for high-quality cultivation, specifically conducting daily observations of vegetables and handling unforeseen changes or abnormalities. Traditional methods for growth management takes time and effort. I would have to walk around fields and confirm the conditions of crops manually. This can be incredibly time-consuming, especially in muddy fields after rainfall. Japanese agriculture is often regarded with a concept we call "3K." This stands for Kitsui (hard), Kitanai (dirty), and Kiken (dangerous). Soon, I am expecting that will shift to something more modern, as drones and smartphones continue to promote smarter agriculture.
Q:

What has your experience been as a woman in the drone industry?
A: Typically, men operate farming equipment, but flying drones doesn't require much physical strength. Moreover, monitoring vegetables with drones requires patience. Not that men aren't as patient as we are, but I feel women tend to be more successful with jobs that require this skill.
Being a female pilot in the drone industry encourages me to seek out opportunities to expand my role and capabilities. Although I am only currently using drones for monitoring vegetable growth, I am planning to set up a system to share valuable data, such as daily growth and drone benefits, with my clients.
Q:

What about your business or activities contributes the most to local agriculture?
A: By using drones, I hope we generate better production and elevate the future of the agriculture industry. I believe the younger generations that have an interest in agriculture will benefit greatly from a revitalized agricultural system that has optimized the effectiveness of total production and reduced the burdens of workers.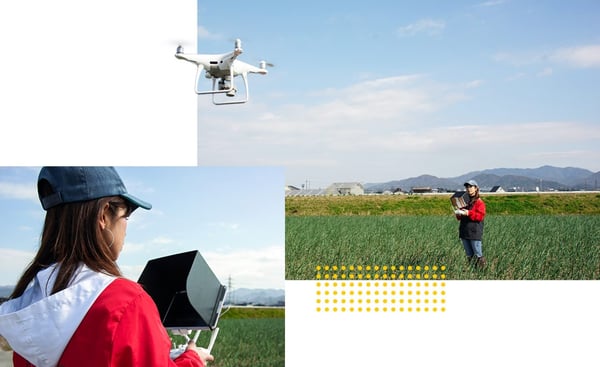 Being able to monitor vegetable growth and field conditions and apply it productively when distributing fertilizer or spraying pesticides helps deliver desirable results. It will also be able to change negative impressions about agriculture and drone technology and will spark more interest in the importance of cultivation. I am pleased about my commitment to producing higher-quality vegetables.
Q:

What advice

would you give other women who are aspiring to become drone pilots?
A: Don't hesitate. I believe now is the perfect time to enter the drone industry, especially as a woman. There are so many opportunities for using this technology as a new solution to plenty of issues. We have current environmental concerns that drones have offered new ways of solving. We have future problems like Japan's declining birthrate and aging society that a curious individual might help address with this technology in ways we haven't imagined. And women even in traditional roles like mothers and teachers can even use this position as an opportunity. Drones provide so many chances to educate children about programming, AI, and problem-solving skills, to name a few. There's no reason a woman shouldn't be a drone pilot.
Q: Do you have any suggestions for the drone industry about new applications?
A: It will be exciting to see how drones can pair with AI systems to automatically spot weeds, helping farmers remove them more efficiently. Similar ideas go for the fishing industry, such as the monitoring of feeding farm-raised fish. For delivery, I am anticipating drones becoming a vital means of support for people in remote mountain areas and on isolated islands.