DJI's product design department has continuously breathed life into the company's drones, gimbals, and accessories. To learn more about how the structure of their team and creatively driven work environment has contributed to their success, we sat down with in-house designer Yiwei Chen at DJI headquarters in Shenzhen.

Q:

How would you describe DJI's product design department in one sentence?
A: A collection of creative and innovation-driven individuals, who are all passionate about the work we do.
---
Q: Why do you say that?
A: My team is the reason why I'm always excited to come to work. We have a diverse department that consists of Chinese designers, a Korean boss, and other staff members from various parts of East Asia. It's a beautiful collection of varying personalities, cultural backgrounds, and mindsets, which has been the catalyst to our innovation and creativity. Of course, our line of work is often challenging, but because we value communication and productivity, we have been able to move forward positively.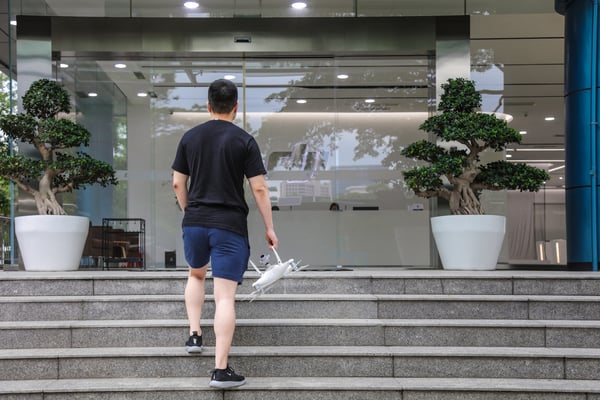 ---
Q: How has having a diverse team contributed to the success of the department?
A: When you gather people from varying backgrounds, who are all intelligent and skilled in different ways, it expands your capabilities as a team overall. We have a designer now who loves reggae music and graffiti art, and these interests have influenced how he approaches his work. This is why we value diversity. Innovation is best created when you have individuals who channel their cultural traditions or interests into the overall success of a project.
---
Q: DJI welcomes qualified recent

graduates with open arms.

Is it challenging for them to adjust to the pressure and expectations of the job?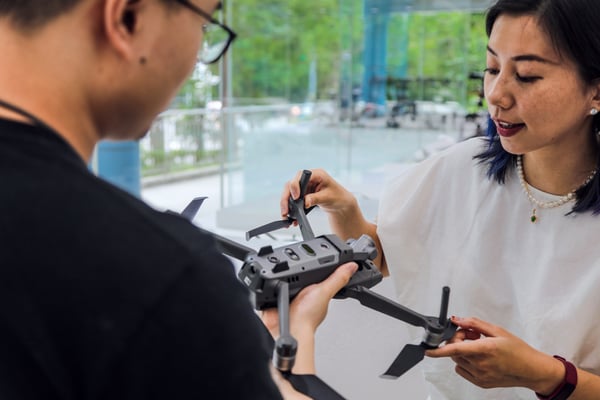 A: For some, it can be, which is why new employees are assigned to a mentor for their first few months. This lets us foster an atmosphere of success, where all employees will have the chance to stand out.
---
Q:

With so many experienced designers in the department, wouldn't it be challenging for fresh graduates to stand out?
A: Not at all. As I said before, we provide the resources and opportunities for employees to go above and beyond with their work. Recent graduates are expected to perform at a high level.

I believe this is why DJI continues to move forward as a company. Everyone, regardless of how long they've been at the company, actively learns and grows their skillsets throughout a project. I'm a mentor now and have been actively helping new graduates with not making the same mistakes I made when I first started.
---
Q: How do fresh graduates make their voice heard with so many experienced designers in the department?
A: Our department has adopted a flat management style, which means that every designer here, regardless of their experience, age, or background, has the equal right to voice their opinion. When a new product is being launched, ideas are pitched from various departments. We get ideas from senior staff members and lower-level designers. Everyone's ideas are considered, and the best ones are used. This means that if you are a new employee and you pitch an amazing idea, then you have just earned a valuable opportunity to stand out from other employees. There are plenty of recent graduates who come in with new and creative ideas, which often impress the veterans.
---
Q: In general, are most recent graduates hesitant to take the lead on a new project, especially important ones?
A: Honestly, I love what I do. For me, it's not about the money or the reputation of the company. It is more about the work itself. The products we create have helped me expand my creative thinking and skills as a designer. As a new employee, you need to have that same passion. Come to work seeking out leadership roles and greater responsibility because that is the only way you will grow. This is something we encourage all recent graduates to do.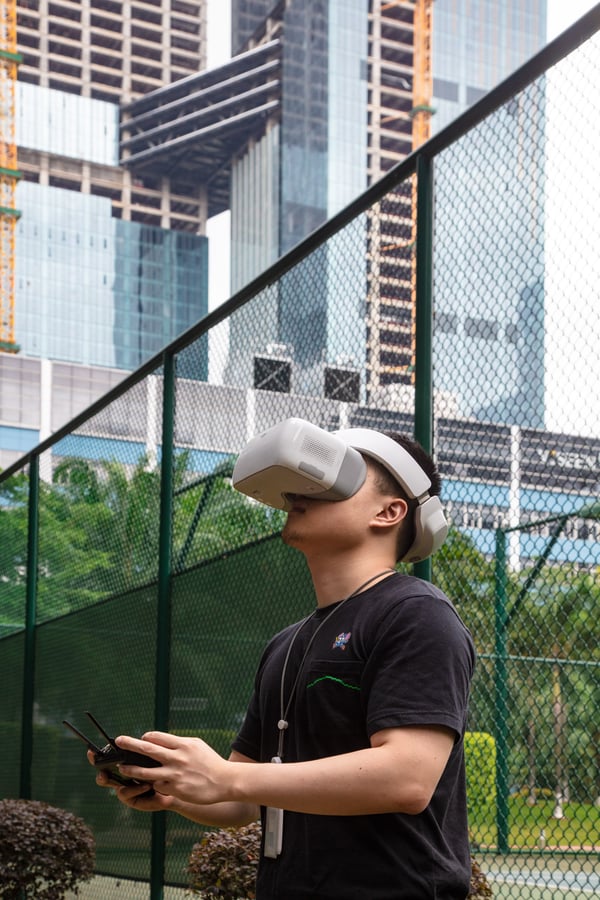 ---
Q: Due to lack of experience, wouldn't it be difficult for recent graduates to land leadership roles for new projects over veteran designers?
A: To become a senior designer, we would prefer that employees gain enough years of experience within the company and have taken leadership roles on several products. However, landing leadership roles is up for grabs for any employee, senior or new. Like I said before, these types of opportunities arise all the time. I, myself, have actively sought chances to increase my workload. That's how you grow as a designer. Yes, it's tiring and incredibly challenging, but in the end, it is all well worth the experience.
---
Q: What professional skills would the ideal new employee possess?
Have you always wonder how do we design our award-winning products at DJI?
Take an exclusive glimpse at our design department and learn more about how creativity, work environment and passion, which are all contributing factors to produce ground-breaking products.
A: The most important is creativity, specifically relating to aesthetics. I think every aspiring product designer should be creative enough to come up with innovative or aesthetically pleasing design ideas. Communication is also essential. Every employee working here needs to know how to be productive both independently and on a team.
---
Q: Would you agree that product design is more about specialization and less about communication? Why is communication such an important skill to have for designers?
A: I like to think that we are a tight-knit group. We play sports together, video games, we go on camping trips, and we even attend each other's weddings. This is how we relieve the pressure of the job. This is also how we have strengthened our internal communication.
Cross-department cooperation has also been essential to our success. Here at DJI, you will learn that it can be a challenging place to work, like most tech companies. Disagreements occur quite often. However, we never allow them to hinder our progress. A strategy that always works is one that considers both our passion as designers and the requirements set by our managers. This ensures that everyone can get behind the proposed solution, and in the end be proud of the finished product. Communication is key to the strength of our team. When like-minded individuals come together, the best ideas are generated, and the company grows tremendously.
---
Q: How do you balance your work and personal life

?
A: My family has been incredibly supportive of my career choice. They know that it is a challenging work environment, but they also know that I am passionate about what I do. I believe having family and friends in your corner is instrumental when it comes to advancing in your career. Although being a designer can be demanding, it is essential that you distance yourself from your work from time to time. This is why we love leaving the office for a bite to eat or playing board games during our free time.