ViewPoints was made for DJI to lend its voice in the fast-moving, digital world. With the COVID-19 pandemic impacting all communities, we want to use this platform as a place of support in these difficult times. Now, more than ever, is a time for community. These series of posts will share how members of the DJI community are adapting to life while staying safe.
Christoph Tallerico is a Video Producer at DJI in its Los Angeles Office. In his time working from home, he has found inspiration in his limited surroundings to share the tools of his trade in a perfectly DIY way.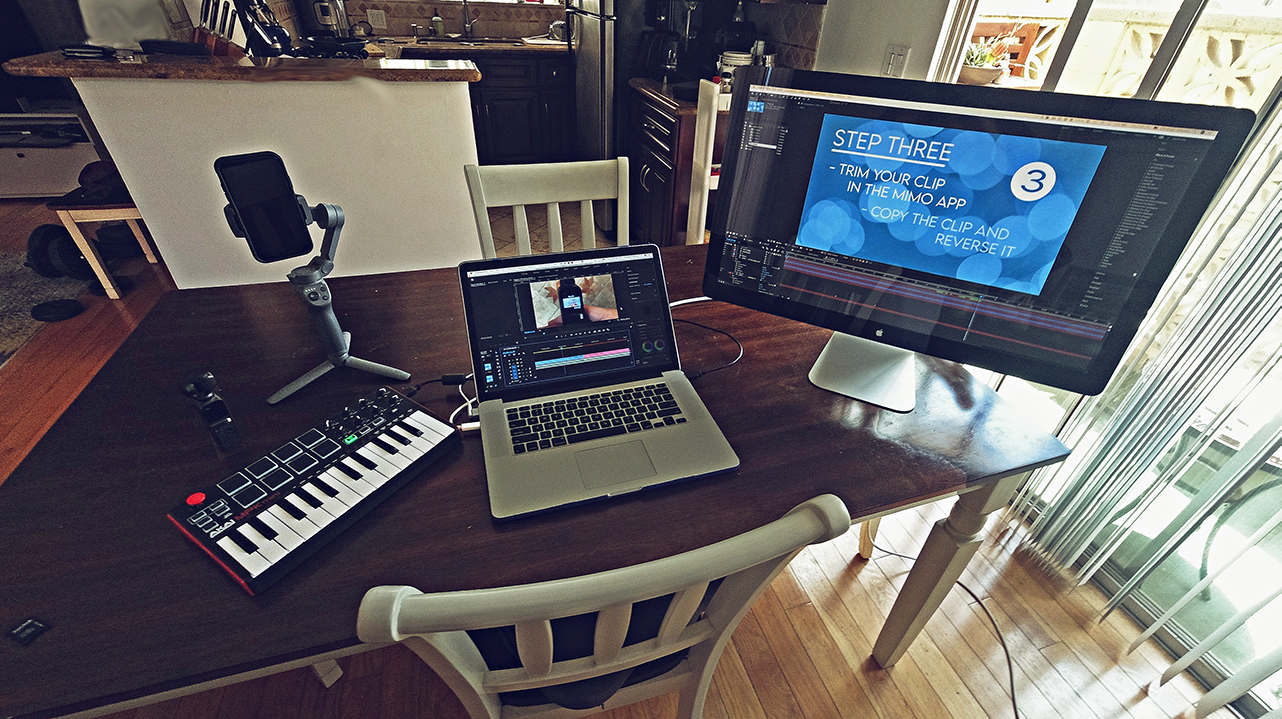 As long as I can remember, I have loved movies. I loved watching movies, writing scripts, making videos, and every time I read a book it plays out like a movie in my head. Starting in high school, I would make short films with my friends- from shooting, directing, editing, writing the music- I loved every aspect of it, but never imagined it could become a career.
Fast-forward some ten-odd years and I am working as a video producer for DJI in Los Angeles, the film capital of the world! As a producer, my hands are in all the pots of video production, but I always had this yearning to be more creative and delve deeper into each of these components of production.
Lifestyle Change
Before Covid-19 hit the US, I would spend many hours sitting in the car. Whether it was driving to and from work, heading out to meet vendors or location scouting; LA's famous traffic would eat big chunks out of my day. Now that I am working from home, I am finding that I have more time in my day. I have been doing all the typical quarantine activities; working out at home, baking bread, spending way too much time on social media, adopting a dog… but I have also gone back to my one-man-band days of filmmaking.
In the years since I began editing and shooting on my family computer, the technology of filmmaking has changed drastically and I am playing catch up. I have been following tutorials online to brush up on Premiere Pro as well as starting to learn After Effects. Similarly, I have been spending more time with some of the DJI products I have at home.
Since the days of shooting video on my Sony Handicam and editing on Windows Movie Maker, it has become so easy to create and share movies. With Instagram, YouTube, and TikTok (dating myself – none of which existed when I was starting), there are so many platforms for getting content to the masses.
While exploring the updates to the video software, playing around with my Osmos, and playing around on the piano – it struck me! Just like during my internship, I was able to bring together all of my passions to create fun pieces of content.
Quick Tips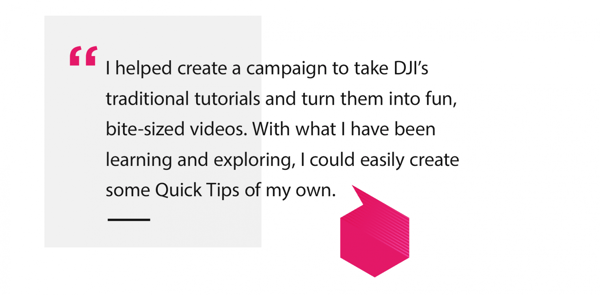 About three years ago, I helped create a campaign to take DJI's traditional tutorials and turn them into fun, bite-sized videos demonstrating different features and functions of a product. We called them "Quick Tips." With what I have been learning and exploring, I could easily create some Quick Tips of my own.
I went back and looked at some social media posts that really stood out to me; short, eye-catching videos that would have seemed impossible for me to recreate back in the day. But now, the idea of creating these types of videos definitely seems within reach. Not only that, but I could teach others how to do it themselves after figuring it out on my own.
My goal was to create one new Quick Tip per week. In my free time, I look on social media for cool shots that I want to try and recreate. After a few tests, I know which ones I am able to recreate and break down step by step. I then turn to my social media pages to poll my friends and followers as to which Tip I should create next. Once the results are in, the real fun begins!
Guerilla Style
I don't have access to the full range of gear that we usually have for one of our shoots at work, so I have been making do with what is at home. Between my phone, Osmo Mobile 3, and lights around the house, getting creative and using what I have allows me to get the shots I want. For example, I was trying to get a close-up shot of setting Osmo Pocket into slow motion but needed a way to keep it steady. I wanted to use the backsplash in my kitchen as the background, so I laid a cereal box on the stove as a flat surface for OM3 and my phone, then used an upside-down Tervis tumbler to steady Osmo Pocket at just the right height. It's not perfect, but given my current situation, it worked!
While gathering my shots and working on the motion graphics for the video, I am also sitting down at my piano and coming up with short fun melodies that I can use as the score. Once I have all these pieces ready, they get stitched together and the video is ready to post!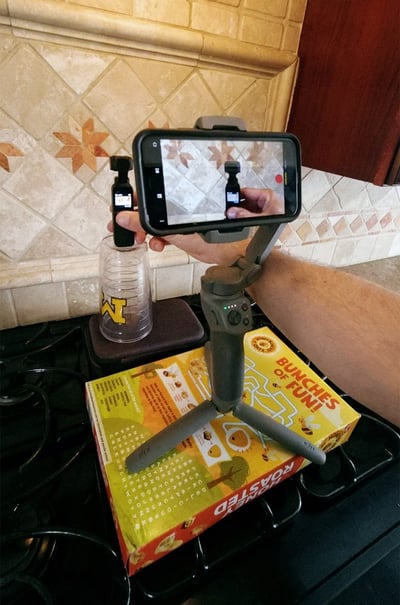 Looking Back
It has been nearly two months since I started working on my tutorials and sharpening my creative skills, and I have noticed that I am anxious to dive even deeper into the world of content creation and sharing. I am learning more about the importance of one's own brand and how creating content is not only about the content you create, but about how you market yourself.
Currently, I am working through the Google Analytics Academy to better understand what is going on behind the scenes of my YouTube channel and how I can leverage that platform to improve my skills as a creator and marketer. I recently flushed out my YouTube page, and am trying to make myself look more like the professional I am trying to be.
I am very grateful to be healthy and able to pursue what makes me happy. And I am thankful for all the people who are out there trying to help bring the world back to safety. I hope you are all staying healthy, happy, and (relatively) sane.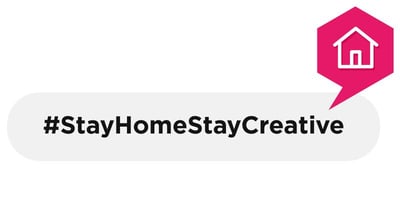 P.S. – We want to hear from you! Please let us know what you would like to read from us by clicking here. We look forward to your comments.