Over the past decade, DJI and the commercial drone industry have grown at a rapid pace. We have not only created products that show the extent of our innovation but also increased the diversity and number of people who use our products. In celebration of International Women's Day, we are sharing stories of female pilots around the world who have contributed to pushing the boundaries of innovation.
As a reporter for the Korean newspaper, The Herald Business, Lee Jung-ah has covered many stories relating to technology and science over the last eight years. An owner of the DJI Phantom 3 Pro and racing drone QAV250, her interest in drone technology led her to be among the first licensed female pilots in the country. Lee has also written passionately about new drones in the market, as well as the development of local drone industries and businesses adopting the new technology. In this short interview, see how the Korean market is embracing drones and integrating the technology into their most promising areas of development.

Q:

When did you first fly a drone?

A: It all started in the summer of 2015, when I stumbled upon some aerial pictures online. I was incredibly impressed with the view drones provided, which was completely different from the usual flat perspective of a regular photograph. For me, the most attractive thing about drones was the delight of discovering new photo angles at various heights. After a month of searching for and being mesmerized by aerial photos, I finally decided to buy a drone.
Q:

In 2015, you wrote a series of articles on drone racing for entry-level users and drone technology's usage scenarios. What is your opinion on the growth, process, and current status of the drone industry in Korea?

A: Lately, the Korean drone industry has been growing exponentially. In 2016, there were 1,300 licensed drone pilots in this country, and now has exceeded 20,000 last year. In the same timeframe, registered drones jumped from 2,000 to 10,000. Yet, the application of drones in different sectors remains somewhat restricted. In Korea, the most common uses for drones are for building or monitoring infrastructure, as well as filming. When drones were first being introduced as a tool for business in Korea, major domestic logistics companies showed interest, but limitations arose due to the local residential environment, particularly tall apartment buildings. In response, the Ministry of Land, Infrastructure, and Transport, together with the Ministry of Science and Technology, are discussing developing "drone paths," which would enable drones to be used for various purposes, including cargo delivery, agriculture, and rescue/distress missions. Additionally, the Korean government announced plans to improve transportation regulations with an aim to create a drone taxi service in 2025.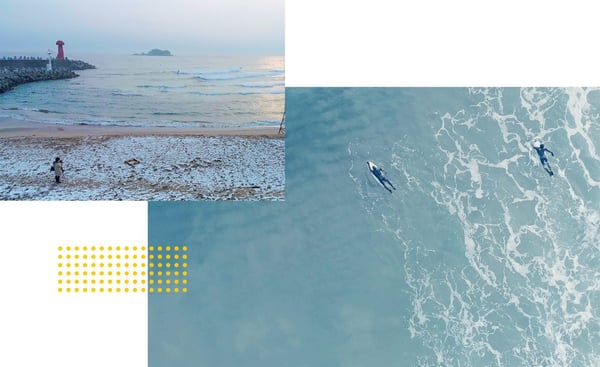 Q:

Can you share any memorable experiences when using drones to cover news stories?

A: It was an intensely cold day, below -10° C in Donghae (Korea's eastern coast), where I was filming the winter sea using DJI's Phantom 3 Pro. There was a brisk wind, causing the battery to die quickly, and to make things worse, there was heavy snow. I became very concerned. After filming the shots I had wanted for about an hour, I realized that the back of my hands were red and numb. It may sound strange, but while examining them, I felt incredibly proud. The task was undoubtedly challenging but would have been even more so when I first started my journalist career in 2013. Without a drone, my expenses would be higher, and I would also need professional pilots and larger equipment.
Q:

You acquired a drone license at a time when drones were not very popular. What was the reaction you received from others?

A: People are still surprised to see me carrying around and flying drones, not to mention producing aerial pictures and videos. It's not new to me anymore, but some people are still genuinely interested. People often come up to me and ask, "Is this supposed to fly?" Most of the time, all I can do is smile.
Q:

In what other areas do you see drone technology being used in the near future?

A: I believe drones will gain more use in search and rescue missions—in situations where urgent rescue is needed, but the location is hard to pinpoint on foot. Drones with thermal vision cameras can detect survivors lost in mountains and help first-responders locate them in a timely manner. By flying over water, drones can carry emergency equipment like life vests. Soon, I think drones will receive much more interest when proven successful in critical situations.