DJI developer technologies are allowing organizations to bring their innovative visions to new heights. This drone ecosystem is not just giving companies a reliable aerial platform; it is creating a movement in the skies.
The DJI drone ecosystem was made to meet and exceed the needs of all organizations, no matter how large or small; whether they are new to or experienced in aerial solutions.
One such organization is Propeller Aero, a company from New South Wales, Australia, providing cloud-based solutions and analytics solutions for worksites across several industries. Kelsey Saia, a Senior Manager at Propeller Aero, shares their story with us.

When thinking of worksites in construction, mining, and waste management, most people view these operations as old-fashioned. Open spaces covered in excavators, bulldozers, stockpiles, and cranes used to build, demolish, and rebuild.
But the digital wave is finally hitting worksite operations in every industry.
Drone technology is one of the key development areas for worksites, which is not surprising. If we dig into the strides drone technology made over the past decade and how those improvements have brought real-world value to worksites, it seems like a no-brainer.
But, why now? Because the ecosystem has matured and we're no longer plagued by the unknown.
We know exactly what level of accuracy we can get from a drone survey, and we know we can achieve that level every time we fly. We know the hardware's dynamic, and it won't fade into obsolescence. We know there are tried and true methods for processing aerial data and reliable post-processing solutions on the market.
With real-time geotagging, stable hardware, and partners in the drone data analytics space, DJI's shifted the public perception of drone surveying. If there's a time to make the leap, it's now. And here's why.
Affordable Functionality
In the past, drone surveying was only feasible for the earthwork giants. The hardware was expensive and any data processing required dedicated resources in-house.
Even though every surveyor was spending days, if not weeks, in the data collection phase – and only a fraction of that time on-site analysis – most didn't want to gamble their budget on an early-stage product.
On top of that, drones required other supporting elements like a place to store the data and a means of synthesizing it to track progress over time. Back then, drone surveying required a cost more than it was worth for most worksites.
There's still costly drone hardware out there, but it's often under the guise of "enterprise-grade" and "industrial-grade" rhetoric. Before, there was a substantial gap between which drones were considered an enterprise solution and which were considered a toy. But now the gap's closing.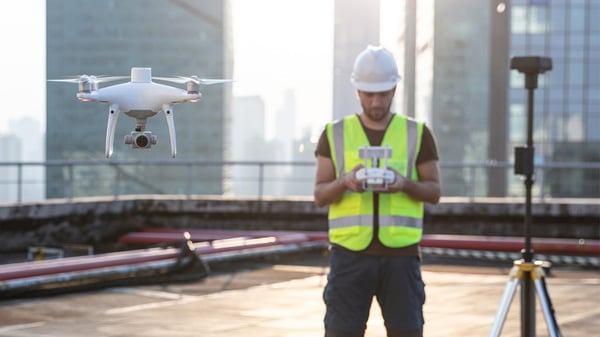 Rather than cornering themselves in a particular market, DJI created a line of drones that has all the functionalities of the high-cost alternatives, but at a price point worksites of any size can afford.
DJI's Phantom 4 RTK drone is a third of the cost of other RTK options, but without sacrificing any of the survey must-haves (speed, accuracy, quality, etc). By offering survey-grade drone tech at a lower price point, DJI's laid the groundwork for mass adoption.
Accuracy Down to the Inch
Like coordinate reference systems, accuracy tolerances are unique to the job. But there's one common thread across all projects – the greater degree of accuracy, the more ways drone data can be used.
In the past, worksites juggled speed and accuracy; quick data collection meant compromising accuracy. Because surveying took copious amounts of surveyors' already-limited time, worksites weren't surveying frequently enough to extract as many useful progress-tracking metrics as they wanted.
Surveyors were caught in a stalemate with their data collection methods, a battle they conceded out of necessity. Walking a site, shooting points, establishing ground control – these tasks took days, sometimes weeks.

Today, surveyors get almost real-time data as often as they want to fly a drone. With bandwidth restored, surveyors can finally direct their attention to their core strength: site analysis by leveraging collected data to make observations about efficiency and progress.
Do-It-All Hardware
You've probably known someone who's waited on a purchase because there's a new, more enticing version or update on the horizon. Maybe you've been this person.
For a while, this was the case with drones. Because the technology was still fairly new, each year brought a new milestone. A lot of our customers were skeptical because of this.
First, it was the camera. Drone manufacturers like DJI found a way to reduce capture issues with a gimbal. Now, mild weather disruptions like light wind aren't going to make or break a dataset. The gimbal, in conjunction with a nice big one-inch sensor, improved camera quality ten-fold. Every photo pulls in lots of light and captures exactly what's happening below.
But, high-res imagery without location data is a little like building a house without a design document to work from. Without designs, all the contractors have a different idea of where the kitchen will go, how high the ceilings will be. What you wind up with is a Frankenhouse. The same thing was happening but across the worksite.
Everyone was looking at the same images, but without uniform geotags, location was up for interpretation. Ground control resolved this to a certain extent, giving worksites a ground-level perspective to drape their drone imagery over. But the time spent shooting GCPs dense enough to achieve the accuracy they wanted, negated any time they saved with drone surveying.
Fortunately, drone hardware reached a point in its evolution where future improvements won't completely antiquate what exists now. We can thank RTK technology for this.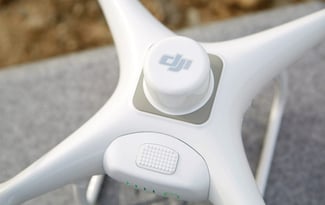 That sleek little cylinder on the top of DJI's Phantom 4 RTK drone tags images with positional data as they're captured. Having a real-time kinematic (RTK) unit on a drone itself alleviates the need for overly generous ground control, while increasing survey accuracy by introducing a context for comparison.
For all the reasons above, the Phantom 4 RTK is a low-risk investment. On top of the direct efficiency improvements tied to surveying, we're still unearthing new edge benefits every day.
An Everyday Workflow
With RTK came an equally powerful counterpart. PPK (post-processing kinematics) makes the drone surveying workflow incredibly easy for new adopters.
PPK is something we've been working on perfecting over at Propeller. When DJI introduced their RTK tech, we knew we could shape that workflow into something that makes life a whole lot easier for large worksites.
DJI conquered collection, and we were thinking: What about the data processing? What about the analysis? What did worksites need to painlessly collect, process, and get answers from their aerial data? We found they needed a workflow that integrated all three steps in a neat, reliable package.
This is where DJI and Propeller combined forces to bring a seamless flyover-to-processing workflow to market called Propeller PPK.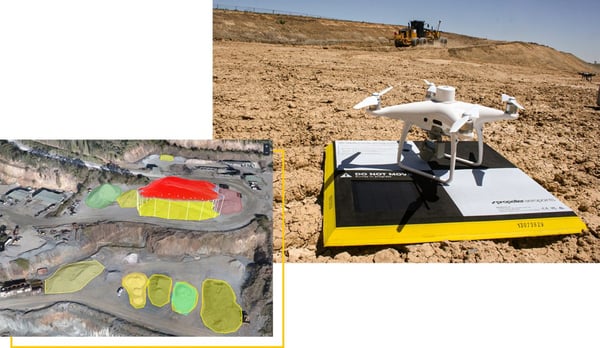 Propeller PPK is a triad, combining:
AeroPoints, "smart" WiFi-connected squares that locate themselves on a coordinate plane to deliver high-precision ground control;
the Phantom 4 RTK to geotag in real-time;
the

Propeller Platform

for processing, mapping, measuring, and tracking aerial data.


When we fuse these processes together, along with Propeller's visualization platform, they transform into an everyday worksite management workflow that anyone can use.
The Phantom 4 RTK didn't just help surveyors to do their job more efficiently, and with greater accuracy. It allowed Propeller and other data-powered analysis tools to arm customers with the tools they need to join – and even define – the next generation of worksites.
Next on the Horizon
Of course, longer flight times are always appreciated, but things like multispectral image capture, industry-specific hardware isn't crucial to the next wave of adoption and usefulness.
For the first time, there isn't a clear next step because drone technology has reached a level of maturity where security and reliability are no longer concerns.
The GPS is about as good as it gets, the camera consistently captures beautiful, high-resolution imagery, and the airframe hasn't changed in years.
Time is precious in any worksite, so why not integrate a drone?. Every month you wait is a month you're not operating at maximum efficiency and tracking progress. You lose a month to a cautiousness that's no longer warranted.
For every worksite that was resisting drone technology until it stabilizes, the time is now.