DJI is aware that some drone pilots in the EU, Liechtenstein, Iceland, Norway and Switzerland were concerned about the 120m altitude limitation introduced with the recently launched DJI Mini 4 Pro.
During a firmware update on 28 September, the limitation was temporarily lifted due to a software bug. In order to comply with new European Drone Regulations, DJI will revert to the 120-meter limit for Mini 4 Pro on 26th of October 2023.
The new European Drone Regulations have been laid out by the European Commission and the European Union Aviation Safety Agency (EASA) and will become fully applicable on 1 January 2024.1
The new regulations adopt a risk-based approach, and consider the weight and specifications of the drone and the operation it is intended to undertake. They categorize them into different classes ranging from C0 to C4 in the so-called Open Category (low risk operations) where the vast majority of drone users fly.2 As such, they do not distinguish between leisure or commercial activities. DJI Mini 4 Pro has been certified as class C0.
The C0 classification provides a large degree of freedom for drone pilots in the region as they do not have to obtain any type of training certificate to operate this type of aircraft.3
However, certain technical restrictions are placed on the manufacturer to ensure these aircraft operate in a safe and secure environment. In addition, drone pilots have to comply with operational rules:


Manufacturer Technical Requirement for C04
Drone Operator Responsibility for C05

Maximum take-off mass of less than 250g.
A maximum attainable height from take-off
point of 120 meters.
A maximum speed in level flight of 19m/s.

No flights expected over uninvolved people
(if it happens, overflight should be minimized).
No flight over assemblies of people.
Maintain flight altitude below 120m above ground level.

It is important to note that - according to the regulations - the general altitude limit for operations in the Open Category is 120 meters above ground level. This also applies to drones that have been certified in other classes, such as C1, C2 etc.6
Mini 4 Pro users who wish to fly higher than 120 meters from
take-off point beyond 31 December 2023
Mini 4 Pro users who bought their drone before 1 January 2024 with a C0 label7 and who wish to fly higher than 120 meters from take-off point beyond 31 December 2023 can follow our Step by Step Guide below. But first, an overview of the procedure:
They remove the C0 label from the Mini 4 Pro.
They apply at a special DJI portal to have the technical altitude limitation extended to 500 meters by uploading photo proof of the drone's serial number and the drone without the label and will receive an update.
They will only be able to fly in the Specific Category8 after receiving permission from the National Aviation Authority in their country of operation.
Other drones in the DJI Mini series bought before 1 January 20247
Users of Mini 3 Pro, Mini 3 and Mini 2 SE who bought their drones before 1 January 2024 will have two options:

Option 1:
Apply for a C0 label and C0 firmware from January 2024 via a special DJI portal by providing photo proof of the drone's serial number. They will then be restricted to an altitude of 120 meters from take-off point.


Option 2:
Continue to use the drone without any modifications and without the C0 label and C0 firmware.
---
Step-by-step guide:
How to apply for flying more than 120m above take-off point with your 2023 Mini 4 Pro.

Step 1 – DJI Fly App update
Keeping your flight Apps up to date is always crucial for using the full power of all features, for max. convenience and safety, and of course, to meet all EASA regulations.
The latest DJI Fly App version number: 1.12.3 does it all. Plus, it integrates the application process, getting you to the next step. Don't forget to update the firmware of your DJI RC 2 to 02.00.0100 as well, if you use one. Then, let's meet at step 2.
Step 2 – Find The New Form in Settings
Link the latest DJI Fly App to your Mini 4 Pro. Then, go to [Safety] settings and click [Request] to get to the application for raising the height limit from 120 to 500m.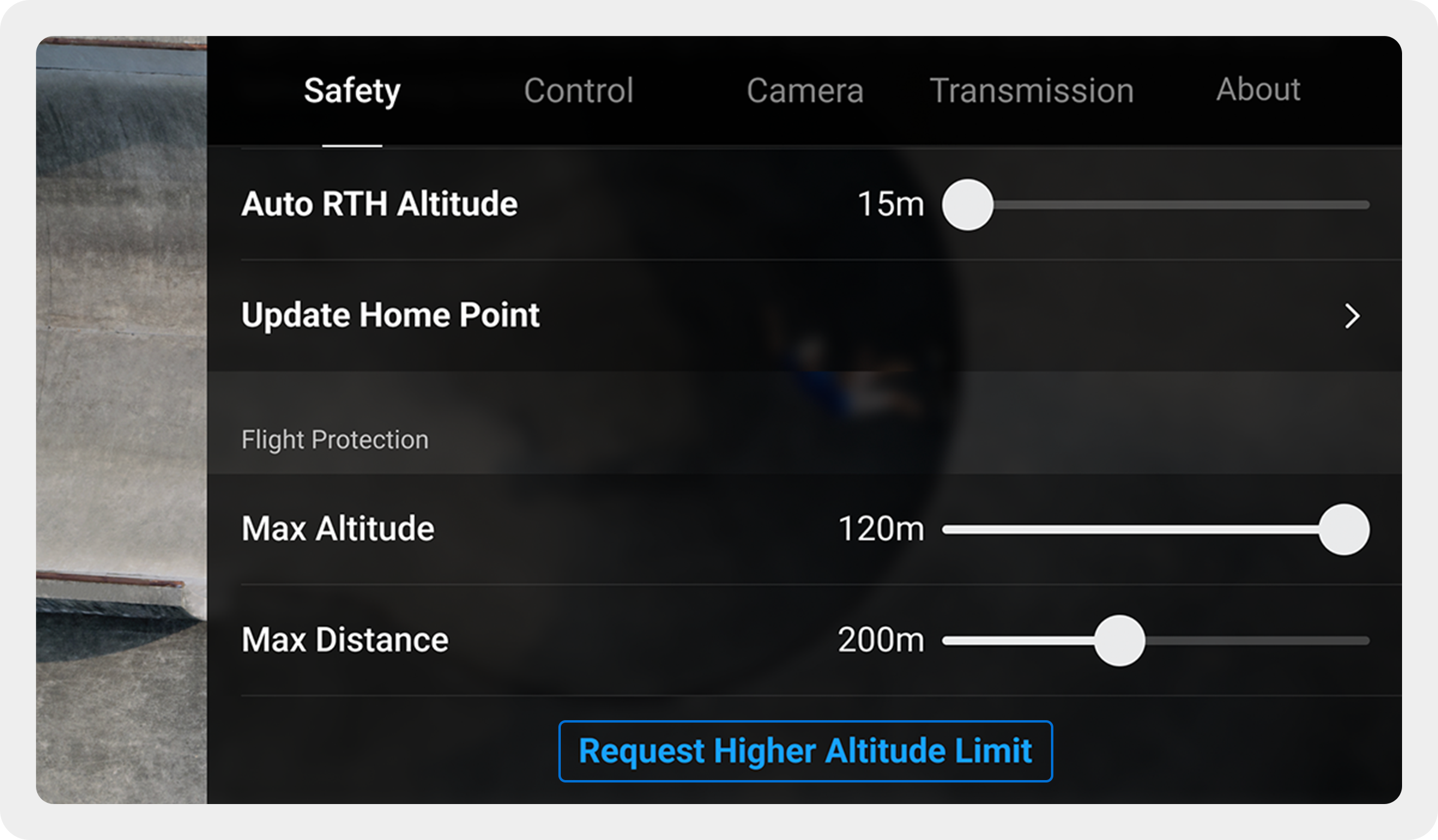 The QR-code that appears when applying via RC 2.

Please note that you need to stay connected to the internet:
(1)With your smartphone, if you connect it to the RC-N2, or
(2)With your RC 2 and your smartphone -> After clicking the [Request] button you
will see a QR-code on your RC 2 screen that you can scan with your smartphone.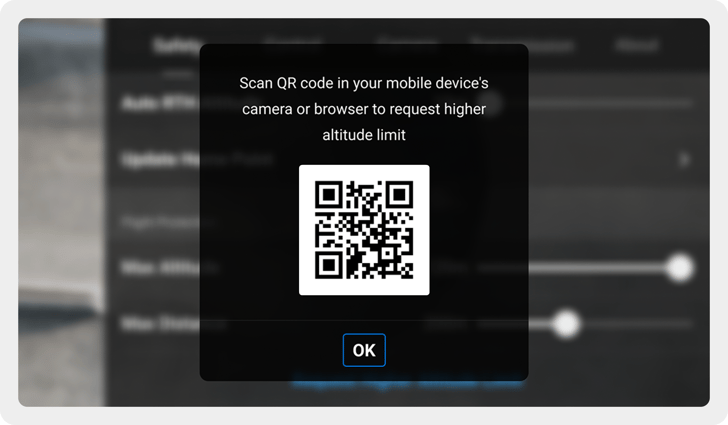 The QR-code that appears when applying via RC 2.


Now you can see a new page, right? Great! That's the application form.
(If you cannot see the application, please repeat resp. finish the firmware update.)
Step 3 – Remove it & Prove it
Remove the C0 label and upload a photo that shows the Mini 4 Pro without the C0 label but clearly showing the drone's SN number as in the right example picture below.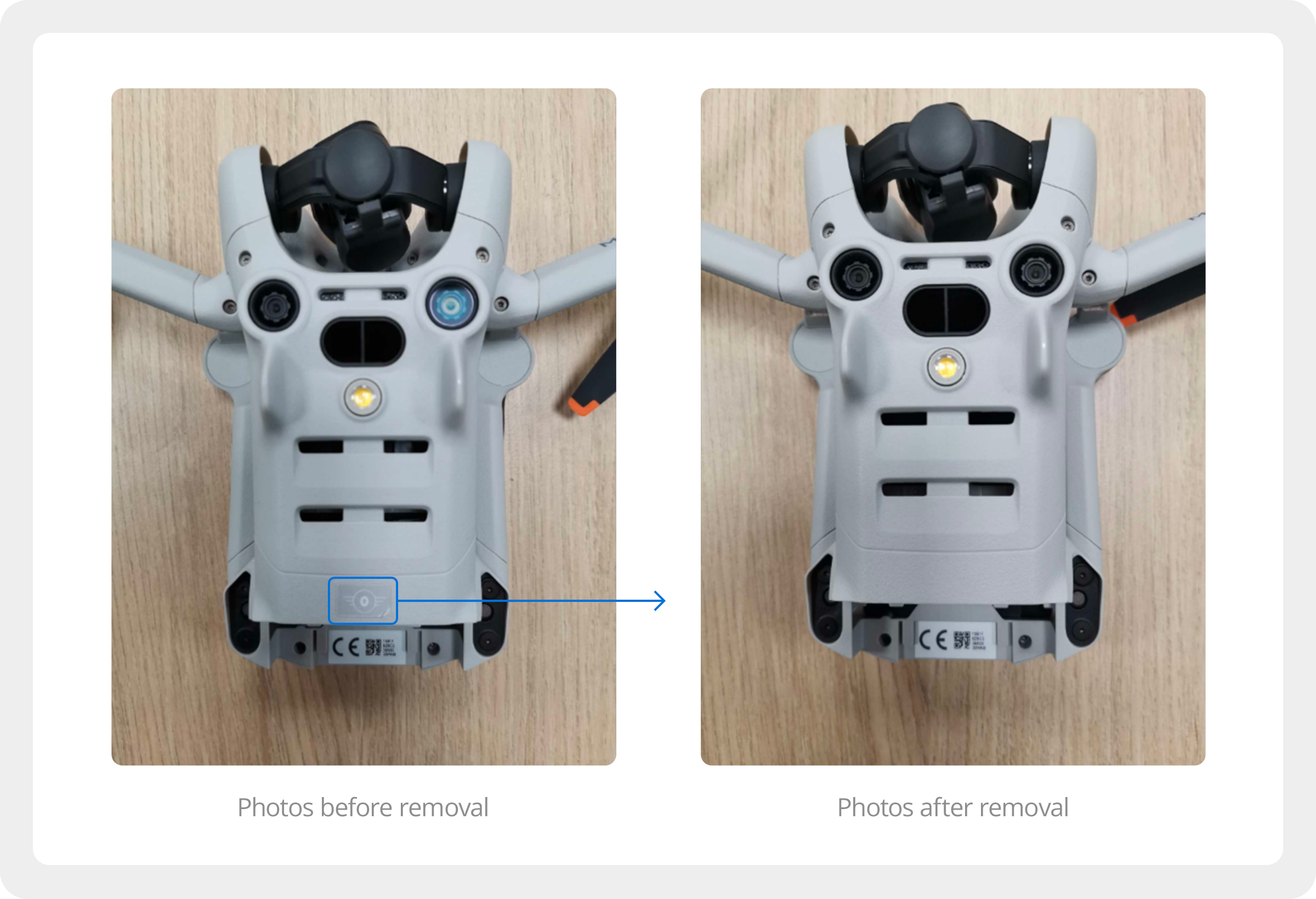 On the left: the C0 label you need to remove.
On the right: the photo you need to take and upload.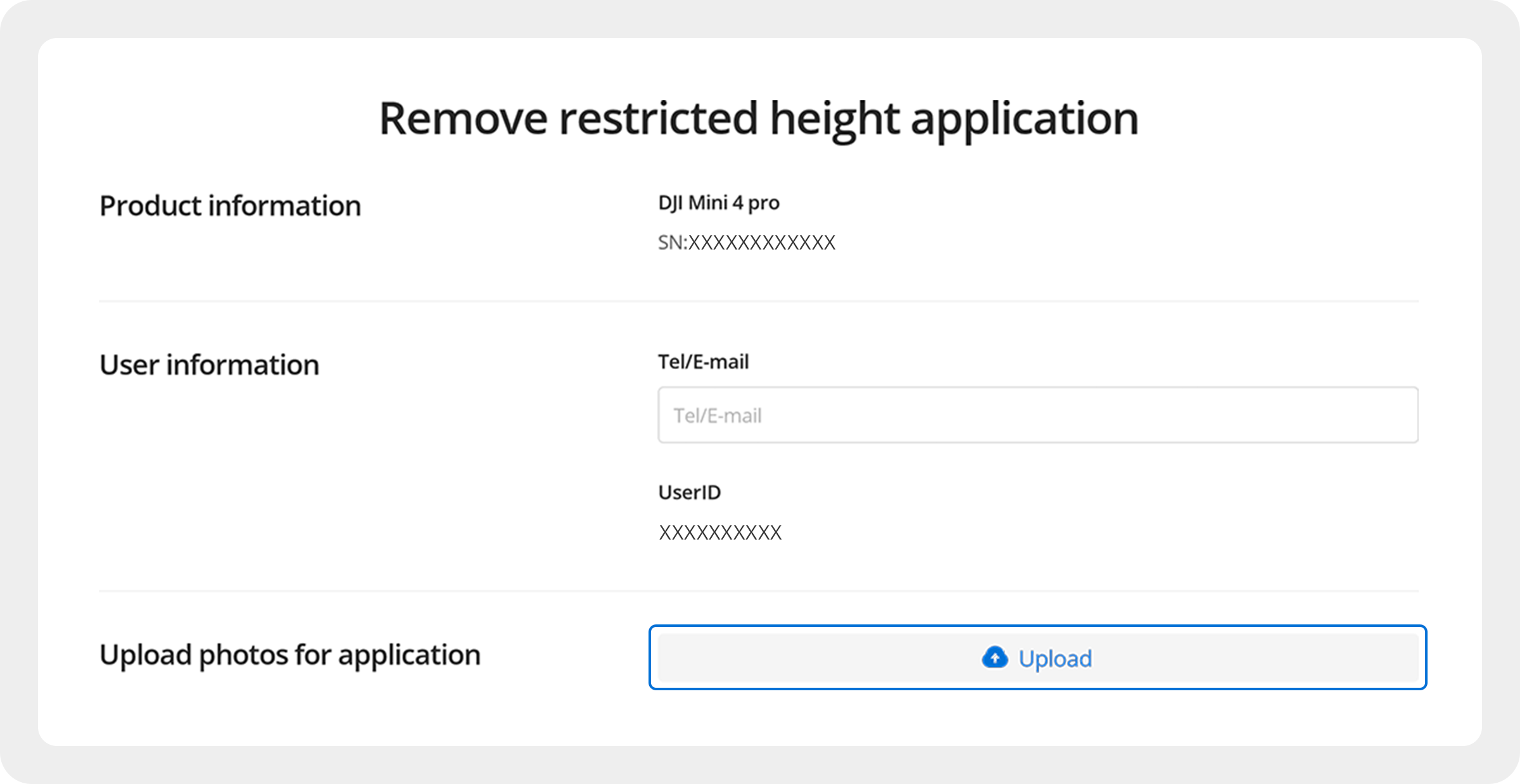 Upload your image of the Mini 4 Pro via the button below

Caution: once C0 label is removed, you will not be able to apply for another
C0 label or related C0 firmware.


Step 4 – Agree, Apply and Refresh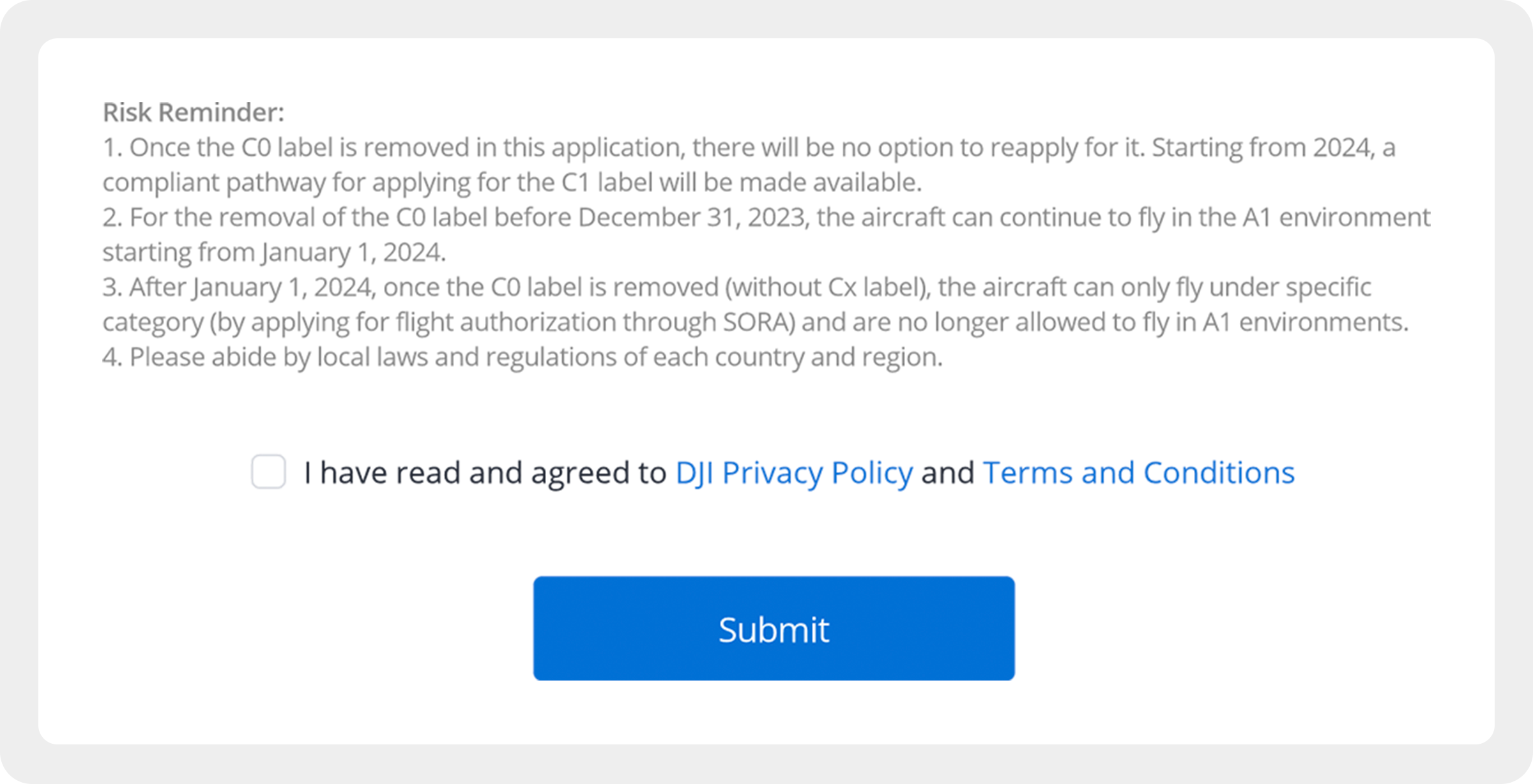 Link to terms and conditions, box to agree, submit button
After you uploaded, read and agreed to the terms and conditions, please click [Submit] and exit the page for a refresh. Then, come back to the safety settings:
If you use the RC-N2, you will see that there is no more [Request] button and your max fly altitude is 500m. (If you delete the App and install it again, the [Request] button will reappear. Just click it, no need to upload images again.)
If you use the RC 2, you just need to click the [Request] button again to check the status, and then your max fly altitude will be 500m.

If you see this: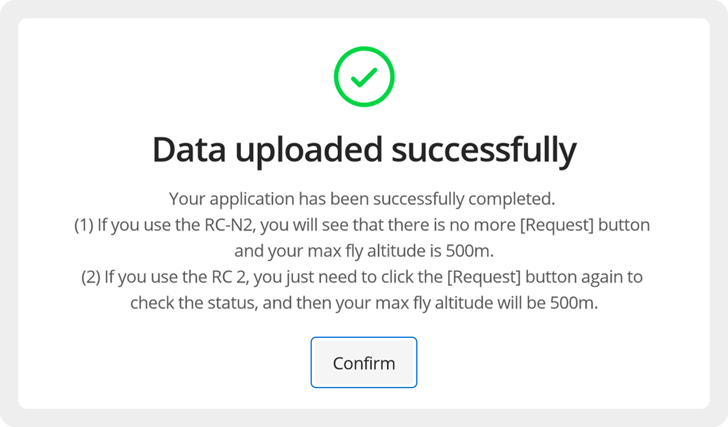 Just [Confirm] and...

You're ready to go!
But please, remember to fly responsibly and to obey the according laws and regulations, with or without a label.
---
1 https://www.easa.europa.eu/en/document-library/easy-access-rules/easy-access-rules-unmanned-aircraft-systems-regulations-eu
2 Depending on flying scenario.
3 Registration of the drone (pilot) and additional liability insurance apply in most countries. Please consult local Aviation Authority websites to find out local rules and regulations in the country of operation.
4 https://eur-lex.europa.eu/legal-content/EN/TXT/?uri=CELEX%3A32019R0945
5 https://www.easa.europa.eu/en/domains/civil-drones/drones-regulatory-framework-background/open-category-civil-drones
6 https://www.easa.europa.eu/en/faq/116465
7 All drones bought from 1 January 2024 onwards will have a mandatory class identification label which cannot be removed.
8 https://www.easa.europa.eu/en/domains/civil-drones-rpas/specific-category-civil-drones