Over the past decade, DJI and the commercial drone industry have grown at a rapid pace. We have not only created products that show the extent of our innovation but also increased the diversity and number of people who use our products. In celebration of International Women's Day, we are sharing stories of female pilots around the world who have contributed to pushing the boundaries of innovation.

Today, we're introducing Carmaine Means, who works as a news cinematographer at CBS Network News and owns a business called Drone Girl Photography. An Emmy-winning photojournalist, Carmaine loves exploring different technologies for her work.

Q:

When was your first encounter with drone technology?
A: I was working as a news photojournalist for a TV station in Chicago when I was asked to film a studio segment about "Christmas' hottest new toys." One of the items I chose was a DJI Phantom drone with a separate action camera. After the show aired, I maintained my interest in drones. I also kept up with advancements in drone technology, always exploring different possibilities for application. Years later, I studied to obtain my FAA Part 107 certification to become a professional drone pilot.
Q:

What made you tailor your business to focus on aerial photography?
A: I predicted where drones would have an impact on television and film. Such a dynamic tool would change the landscape of how we traditionally achieved getting aerial imagery, which was previously accomplished by manned helicopters. I wanted very much to be a part of drone technology then and now, which is why I set out to build a business around drones. I envisioned other fields benefiting from aerial photography, so that's why Drone Girl Photography was created.
Q:

How have drones changed your career and life?
A: Drones have changed my career path. When I started as a photojournalist, I thought I would probably retire doing ground camera work. Now, I have an opportunity to create so many different services to offer to corporate America, educational institutions, non-profits, and more with the skills I have acquired as a part 107 licensed pilot. I am constantly learning and pushing myself to learn and become skilled in other industries where the use of drones plays an integral part in daily operations. I have met people from various industries and their needs for drone technology. Due to the drone needs from other industries, I was able to take that experience and apply that technology to the television industry.
Q:

When did you first fly a drone and how long did it take you to turn this into a business?
A: I started flying in 2014 and it didn't take too long to teach myself how to fly. It took me two years to start Drone Girl Photography.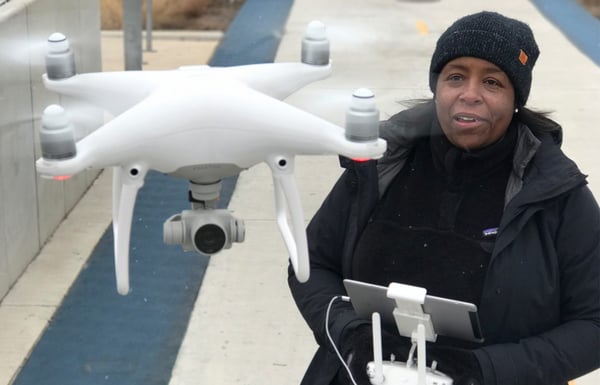 Q:

Did you experience any prejudice about women using drones professionally or was it advantageous for your business and profile? What other feedback have you received from your clients?
A: I didn't knowingly experience any prejudices. My experiences with flying drones while practicing or when performing flights on a job is still a very positive one. People are very curious about the technology and what can be created as a result of it. The feedback we have gotten from clients is extremely complimentary.
Q:

What would you tell other women around the world looking to embrace drone technology?
A: Go for it! You would be surprised what you will learn and be exposed to during your journey. You will meet a great network of people who are extremely supportive. There are a lot of great resources to tap into, whether it's practice areas and groups, educational events, equipment needs, hiring extra help, or just meetup groups and networking. I believe if you think you have something to give, then go out there and give it. Don't let anything stop you from achieving what you want to do.
Q:

As a female user, do you have any suggestions to developers and designers at DJI for future products?
A: All of DJI's products gel wonderfully with me as a female drone pilot. However, the only suggestion I would ask developers to consider is to design a CS (e.g., control station, remote controller) that is smaller and slimmer to accommodate women with smaller fingers and palms on models for the Inspire and Matrice series of UAS. I consider myself to have longer fingers, but women who are shorter in stature than I usually have shorter, thinner fingers and smaller palms and I can imagine they may find the current options from DJI challenging when operating the remote controller and conducting maneuvers manually.
Q:

In what other areas do you see drone technology being used in the near future?
A: The novel coronavirus has created unprecedented times of uncertainty in our daily routines. Out of this uncertainty we have witnessed and been a part of solutions where you are witnessing a growth in the inspection and emergency services industries. Transportation is another industry that has accomplished eye-opening inventions and proof of the potential that is to come. When you take a look at companies like Airbus, Alaka'i's electric chopper, or Russian-owned Hoversurf based in California, you can see that the designs and functionality are based off UAS technology and design. It will be exciting to see how drone technology advances and where else it can be applied.

If you would like to get in touch with Carmaine, please contact her at c.j.means@gmail.com for more information and stories from her career.