Over the past decade, DJI and the commercial drone industry have grown at a rapid pace. In creating products that show the extent of our innovation, we have also increased the diversity and number of people who use our products. In celebration of International Women's Day, we are sharing stories of female pilots around the world who have contributed to pushing the boundaries of innovation.
Gail Orenstein is a UK-based pilot who has worked as a photojournalist for 23 years. Now, with her company A Drone of Her Own, Gail believes drone technology has become a great tool for equality. As an experienced journalist, she often works in demanding environments that require fast thinking and flexible tools. Drone technology has provided exactly that, extending her capacity to break boundaries and thrive in her career.

Q:

You've worked as a photojournalist for 23 years. When did you decide to start using drones for your assignments?

A: I remember first using drones as part of my kit very well. I was living in Kurdistan, Iraq, and at the time, I was sneaking regularly into Kobani, Syria. During a visit in 2014, a drone strike unfolded right in front of me. At the time, I was familiar with the military using drones, but not civilians. This changed when, upon returning to the UK, another reporter showed me aerial footage of the aftermath of the battle for Kobani. He captured these clips himself with a camera drone, and I was amazed by the amount of damage he was able to show.

I remember thinking this is a game-changer; everything will be different from this moment. Not just in newsrooms and the media but every aspect of our lives. I was really in shock, seeing that footage. You must remember that drones were, and still are, a very new piece of kit for photojournalists, so I often find new ways to use them.

Having this gear available over the last five or six years, it's such a short period when compared to cameras, radios, and sound recorders in the field. The footage also really inspired my desire to go back and take a drone with me.

I had seen the extreme impact of weaponized drones on the battlefield and affected population. As a journalist, I have seen drones transforming battle, heard them coming, and felt the walls rattle as a strike killed nearby ISIL soldiers. This impact on society was something that I had to share.

Seeing Syria from an aerial point of view changed my entire thinking about journalism, history, and narrative. I began training and investing in gear, going everywhere, and working with a drone. I immediately wanted to become an expert in this field with all the certifications. However, the field had just started, so I had to figure out for myself how to become a drone journalist. I became licensed in the UK and USA as soon as I could and trained very quickly. I wanted to get this aerial footage myself and I had not seen any females doing this with a drone.
Q:

How would you say that drones have changed your career?
A: I view drone technology as a great tool for equality. After a long career with many years of experience, I am often sent to work in the most remote and demanding situations, which gets more and more difficult for me. This kind of work often biases against people with less strength or the height advantages that men can have over women, or people with other disabilities.
When I finally started to use drones in the field, I found that the overall area I could report on was huge, and it occurred to me I finally got to see all the layers of the story from an aerial perspective. Suddenly, I could cover those difficult and dangerous situations while remaining well out of the way. I've operated a drone in 31 countries, and the view of the landscape on my remote controller is a phenomenal experience every time. I dare say I can use a drone just as well – if not better – than any young person or any man around, and my flying skills were very good from early on due to daily practice. The technology extends my physical capacity to such an extent that I have fewer limitations on my talents than I could have ever imagined. More than anything, a camera drone creates equality.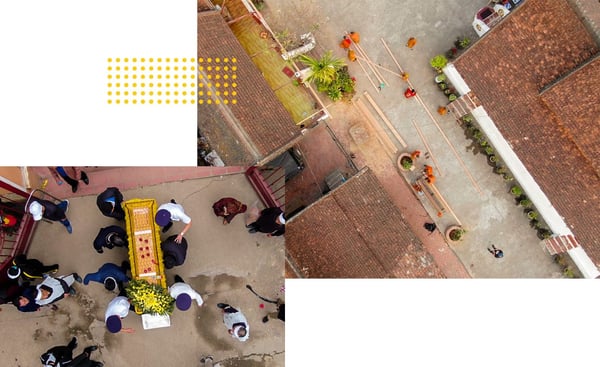 Q:

What is the advantage of using drone technology? How long did it take you to feel fully confident about using it for your work?

A: You can give a better overview of the story with this technology. You can see many different views at the same time, and you get your information in data that can be analyzed, compared, and proven.

After I finished getting licensed in both the US and the UK, I went on my first full major news assignment in Bangladesh. This was during the Rohingya genocide in Myanmar. This project meant a great deal to me because I utterly idolized the Aung San Suu Kyi, who we later discovered was cooperating with the military. First, as a woman, I really wanted to cover this story and uncover the truth. And what was unfolding was history, just as I saw in Syria. Flying above the border between Myanmar and Bangladesh told a story you couldn't share any other way.

When I flew a drone, I could see the entire area around me. I saw masses of people moving across vast areas. I saw huge camps being built. The final story was received as groundbreaking drone journalism, airing on many channels.

Today, I must practice constantly. I work way more now than I did, say, five years ago, because I must continuously learn and experiment as drones are changing faster and faster. I consider myself a very good pilot. With drones, you can be confident, but it takes much more work to master it.
Q:

What has been your most satisfying experience using drone technology?

A: My best experiences are always when I have a really intense revelation in a very isolated place. I spend a lot of time working in the former Soviet Union and in Southeast Asia.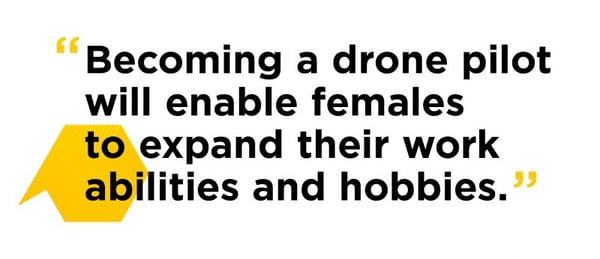 One time I was in Azerbaijan, outside of Baku, and we were driving towards Dagestan. Our driver stopped at some of the old synagogues along the way. I found a very lovely one, and I was using a drone to film the top of its structure in a very peaceful state of mind.
Suddenly, ziplining quickly towards me was a man in a solid, tight black suit; for a moment, I thought it was Batman. Was I in trouble for trespassing? I immediately sent for the drone to return, and by the time it landed, the vigilante was gone. Imagine, a dark figure flying in your direction from nowhere, then gone, just like that. We later found out that because the area was so close to Chechnya, there is a heavy surveillance presence, including their version of Batman!
As for the worst moment, a photojournalist must be very careful when they are asked. I'll just tell you that a drone brings suspicion, and I have felt that directly from some people who you definitely don't want to make unhappy.
Q:

What would you tell other people looking to embrace drone technology?

A: Make sure you keep records of what is happening to you in the industry so you can share these experiences with others. Stay focused on achieving in the drone industry because it will only grow.
Q:

In what other areas do you see drone technology being used in the near future?

A: I was working in Southeast Asia for four months, and I saw how the coronavirus has really impacted the region. The areas I had captured with a drone in December sure looked a lot different than they did by late February. Once-packed markets and temples had turned into empty areas. Overnight, the coronavirus had a huge economic impact on Southeast Asia. It occurred to me while flying a drone in these countries and seeing an exodus of tourists, and none arriving, that perhaps drone technology could play a part in helping to defeat the virus.

When I think about what I witnessed during the coronavirus, I could tell you there are lots of things I would like to work with the medical community on. We are all witnessing a global virus and its impact on the ground. While I was filming with my drone, I was able to get a great deal of footage of areas close to a major global crisis.

If you would like to get in touch with Gail, please contact her at GailPhoto@hotmail.co.uk for more information and stories from her career.