Drones are quickly becoming a standard tool for business. They are working as flying robotic tools that improve efficiency and safety for workers in the field, and even offering advanced data streams to improve future decision making. Organizations are now recognizing the potential of drone technology, including leaders such as Corteva Agriscience, AES Solar, and the Los Angeles Fire Department deploying this technology at scale.
For DJI, the commercial and civil use of drones is only the beginning. Whether in construction, agriculture, or public safety, organizations need complete drone solutions – from finding the ideal sensor or flight control software to analysis and fleet management software.
The Role of a Drone at Work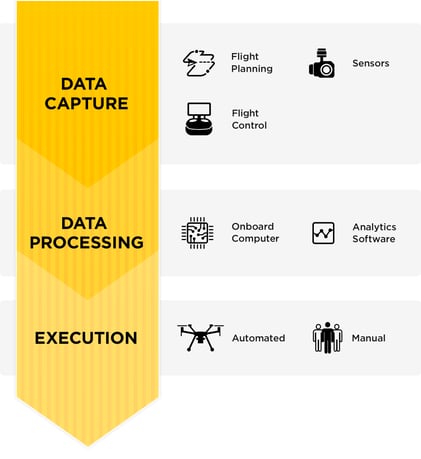 To quickly meet the needs of several industries, DJI offers innovators a myriad of developer technologies to come up with new drone applications and integrate them directly into our hardware. DJI chose this approach when the commercial drone industry was nascent in 2015, allowing us to focus on engineering and technology development. At the same time, we worked alongside existing industry leaders and innovative startups to build on top of DJI's hardware, creating robust, specialized solutions.

DJI's developer technologies have opened up incredible possibilities. They are powering integrations from leading companies – from Facebook integrating livestream functionality, to FLIR building customizable thermal sensors and Microsoft enabling edge computing. The same tools have also fast-tracked startups such as Raleigh's PrecisionHawk, Minneapolis's Sentera, Santa Monica's DroneBase, and San Francisco's DroneDeploy. This group of startups is growing and well-funded, with startups building on top of DJI's platform valued at over $1.6 billion.
Tools in the Hands of Drone Developers
Combine DJI's Developer Tools to Form a Unique Drone Solution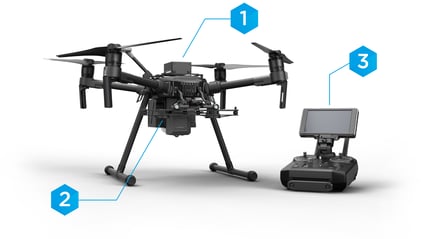 Onboard SDK: Expand Capabilities Through Integration
Gain direct, real-time access to DJI's industrial drone platforms through open communication ports, allowing the integration of external processors, cameras or other payloads/accessories.

Payload SDK: Bring Your Tools to the Sky
Integrate your sensor on our powerful industrial platforms, enabling you to expand your expertise and break into untapped markets.

Mobile and Windows SDK: Deploy Custom Controls Across Operations
Easily deploy custom apps for your fleet of DJI drones using mobile devices, enabling managers to optimize flights across their operations.
UX SDK: Seamlessly Fast Track Development Time
Develop applications the right way using core functions and features embedded in our developer platform.
These businesses show that the potential for drones isn't just taking pictures from the sky. They are gathering data, processing it in a meaningful way, and letting people use it for good. Drones are already proving themselves as invaluable data collection tools. They are tracking whale health from airborne Petri dishes, informing the progress of forest fires with real-time maps, and mapping crop health with multispectral sensors. Companies for oil and gas, railroads, wind turbines, and solar farms are analyzing their resources like never before with an aerial data collection platform that allows employees to work safely on the ground. With AI and machine learning, further benefits are emerging. DJI and our partners are discovering revolutionary – and often simple – ways to make operations safer, more efficient, and better for the environment.
In fact, we estimate that most of the value of the DJI drone ecosystem is generated by the people who use our drones as a platform. After all, these users are providing services, developing new software, and helping realize the potential of DJI technology.
DJI's developer tools have given access to companies to modify DJI products. DJI has also invested in three additional areas to assist these businesses: product safety, data security, and diverse cooperation methods. DJI has long held that for drones to be used for enterprise, they need to be safely integrated into the national airspace. This is why advanced safety features like DJI AirSense, obstacle sensing, and more should be offered as a standard. To help keep an organization's data secure and confidential, DJI has similarly invested in technologies and workflows that give them complete control of the data transmitted and collected by their DJI product. DJI will always be focused on engineering and technology, and therefore cooperates with various companies to help scale out the industry and spread drone technology, with hundreds of Solution Development, Channel, and Strategic Partners across the world.
Through the improvements in DJI's drone platform and the growing rise of our ecosystem partners, we are excited to see what DJI and the industry can achieve together.